New Artist Spotlight: Caroline Jones
ARTICLE
|
December 05, 2018
Get to know Caroline Jones and listen to her amazing album 'Bare Feet'!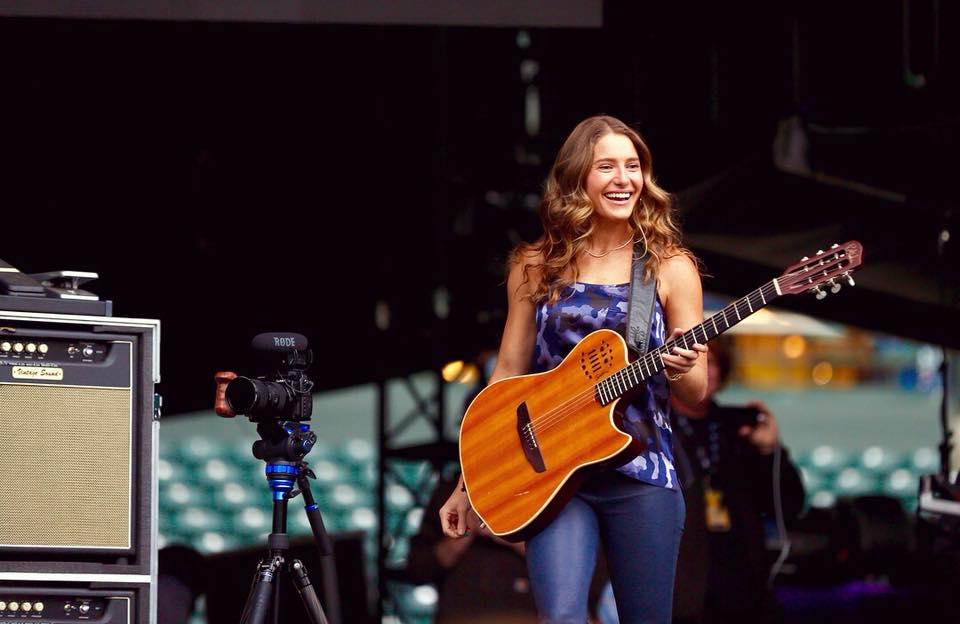 Written by: MegaCountry Staff. Above Photo: Caroline Jones Facebook Page
What do country music and disco have in common? For Caroline Jones, they relate more than you would think. The rising artist's musical passion began with disco music, when she was listening to her mom's favorite band, ABBA. The appreciation continued with a fascination for disco-era guitarist, Nile Rogers. "His guitar riffs are so iconic to so many disco hits," said Jones. "His guitar playing is so characteristic and brilliant."
Jones began taking singing lessons, writing poems and penning short stories when she was 9 years old. She fell in love with the process and followed her dream from that time on, "When I began signing, I realized I could set all those poems and stories to music. Once I began writing songs, I never wanted to do anything else."
Jones wrote every song, played every instrument and co-produced her latest album, Bare Feet, and says that the experience taught her more than she could imagine, "The biggest thing you can learn in production is how to distill and clarify ideas. Ric Wake [who co-produced the album with Jones] is just such a perfect complement to me in that way because he has this way of knowing. It's really about finding the right part with the clearest sounds and a way to put your musical ideas across most articulately."
Jones has had many opportunities to reveal her music to a wider audience. Touring with artists like Zac Brown Band and Jimmy Buffett, Jones considers herself extremely blessed to call them her friends and mentors, "Both Zac and Jimmy have their own vision, and have always been true to their own vision even before it was popular or when it wasn't popular. We all have that deep desire to be really authentic and really uniquely ourselves. So, to be able to call them mentors and friends is hugely informative, hopefully for my entire life, for my entire career."
Jones has some really exciting news and officially a new artist to call a mentor. She will be joining Kenny Chesney and David Lee Murphy on Chesney's Songs for the Saints Tour in 2019. In a press release, she shared her excitement to join Chesney on the road, "Kenny has shown genuine kindness and support to me and my vision for myself as an artist. He is a songwriter, and a person of integrity and philanthropy, in addition to being one of the greatest live entertainers out there. I am really honored to be a part of his tour and be introduced to No Shoes Nation."
The future is bright for Caroline Jones and we can't wait to see where her career takes her!
You May Also Like...
Article | November 16, 2018

This week's New Artist Spotlight features 17-year-old singer-songwriter, Ciera MacKenzie. MacKenzie's... VIEW ALL

Article | November 29, 2018

This week's New Artist Spotlight features Jake Rose, who has already had success in his tenure with... VIEW ALL