Ultimate Guide To The Pistol Annies
ARTICLE
|
November 01, 2018
Take a stroll down memory lane with the Pistol Annies!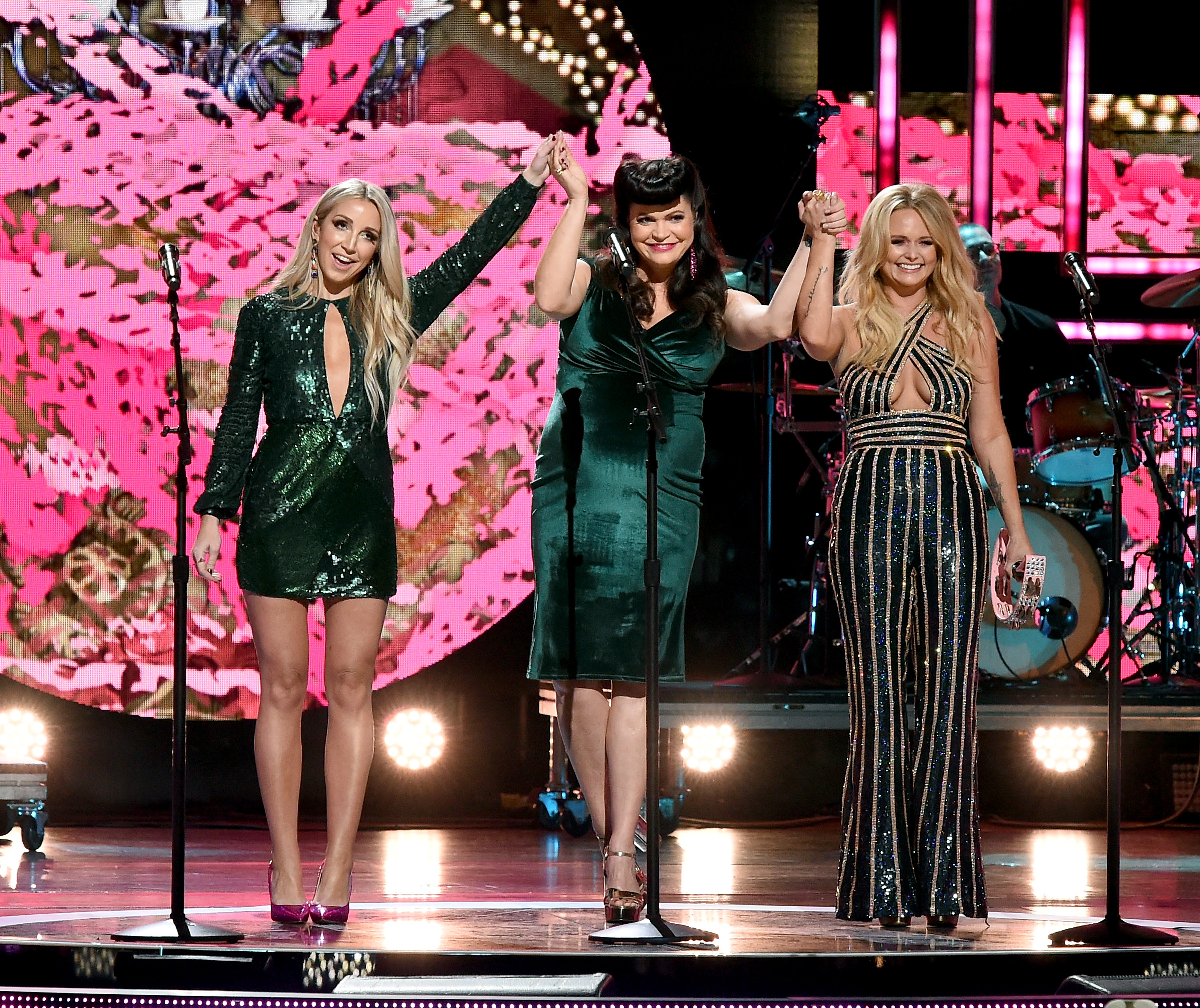 Written by: Rachel Weisenthal. Above Photo: Rick Diamond, Getty Images
By now, if you're a seasoned country music fan, you've likely come to the realization that accomplished artists and songwriters Miranda Lambert, Ashley Monroe and Angaleena Presley, are also the three members that comprise country female trio, Pistol Annies.
A team born out of songwriting soul-sisters, longtime friends Lambert and Monroe had often collaborated in the early days of their careers. Around the early 2000's, Presley was introduced to Monroe through her publisher who then connected her to Lambert and, just like that, a songwriting supergroup was born. Donning the new nicknames they had given each other, Lambert being "Lonestar Annie," Monroe as "Hippie Annie" and Presley as "Holler Annie," they debuted themselves on April 4, 2011, on the CBS special Academy of Country Music's Girls' Night Out: Superstar Women of Country.
Hell on Heels (2011)
Pistol Annies' debut album packed all the strong southern punch that a Kentucky, Tennessee and Texas girl can bring together. In an extraordinarily unusual fashion, there was little to no promotion of their initial album prior to its release, and it still managed to land at No. 5 on the Billboard 200 chart. The only single released off the album, which doubles as the title track, "Hell on Heels," was debuted alongside the group itself at the 2011 Academy of Country Music's Girls Night Out, Superstar Women of Country on CBS.
At least one, and often all, of the three women are credited as the only writers on each track. The exception, however, is "Family Feud," which was written and recorded while Lambert was married to Blake Shelton. He is credited as a writer on the track. The girls clearly had a great time writing and recording the album, something that shone through in every song. Even the two music videos that accompanied tracks "Hell on Heels" and "Takin Pills" were full of humor and sass, just like the artists themselves. It's no secret the group has the unique ability to marry easy listening with blunt realities, all in a pretty package.
Annie Up (2013)
Two short years later, the girls were back with a sophomore album, which peaked at No. 2 on the US country charts. Again, releasing only one single off the album, "Hush Hush" hit the market in April of 2013, and was followed shortly after by the entire album release in May. Drastically stepping up the production from their two previous music videos, the "Hush Hush" video was nothing short of a mini movie. This album was written entirely by the groups three members, often including autobiographical stories. Authenticity is a hallmark of the Pistol Annies!
After the release of Annie Up, the ladies made a joint decision to stop touring as a group, at least as long as the exciting but demanding success of Lambert and Monroe's solo careers kept up. However, the members were adamant that they were not splitting up, and just waiting for the right time to make new music together again. After five long years of waiting, the Pistol Annies are finally releasing a new album, Interstate Gospel, and from the five singles we've heard so far, it's excellent.
Known for writing music based off their personal experiences, the past five years brought a ton of change to each of their lives. From single "Got My Name Changed Back," referencing Lambert's 2015 divorce from Shelton, to "Stop Drop and Roll One," chronicling their joint escapades as a threesome, this album is no exception. However, it's latest music video for "Got My Name Changed Back" has us the most grateful for the return of the Pistol Annies! Only seconds into the sequined, pink outfitted video, and we think you'll agree.
Find the girls performing at the 52nd annual CMA Awards, which will air live from Nashville's Bridgestone Arena on Wednesday, November 14, at 8PM ET on ABC.
You May Also Like...
Article | September 27, 2018

It's official, a Pistol Annies reunion is imminent. Miranda Lambert, Angaleena Presley, and... VIEW ALL

Article | October 26, 2018

Pistol Annies have released another new single, "Masterpiece," off their anxiously-awaited third album... VIEW ALL