Exclusive Interview: Rising Star Tyler Dial Talks Career + New EP
Learn more about country's newest star Tyler Dial!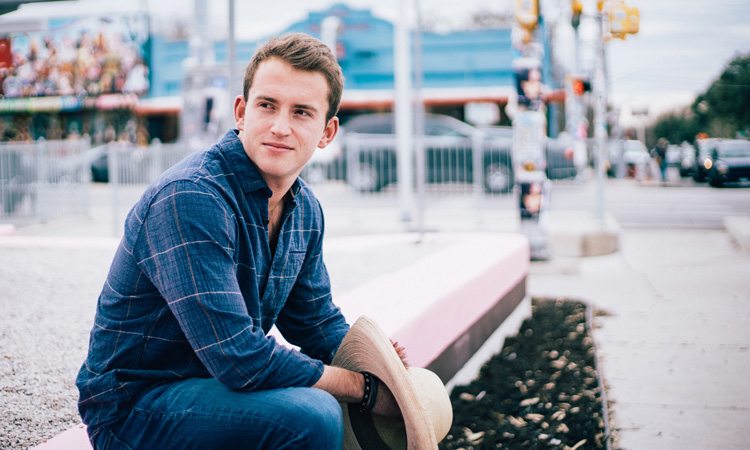 If you haven't heard of country's rising star, Tyler Dial, make sure to pull up his 2018 single and EP right now!
Dial is one of the newest faces in country music and is already beginning to make a name for himself. This talented singer-songwriter is fresh out of the gates of Texas and most recently made his CMA Fest debut on the Ole Red Stage. Blending the upbeat sounds of pop music with the story-telling approach of country music, Dial is the perfect new artist for the next generation of country.
Get familiar with Tyler Dial in our exclusive interview below!
1. What inspired you to get into music?
My dad always had guitars lying around the house and I have early memories listening to artists like Garth Brooks, the Dixie Chicks and the Eagles. Around sixth grade, I picked up the guitar and started learning how to play and by seventh grade, I played "Free Fallin'"at my first talent show. By high school, I was staying up late at night after soccer practice to write songs and it was my passion for music that led me to attend the University of Texas in Austin. It was there where we started playing four-hour sets on Sixth Street and building an audience among the Greek community, playing whichever fraternities and sororities would take us. During my time at Texas, I would come to Nashville every summer to intern and write and eventually fell into the songwriting community I'm working in now. I recently signed a publishing agreement with Neon Cross Music and recorded my debut Nashville EP with Jeremy Spillman and Ryan Tyndell, two of my all-time favorite songwriters. I graduated from the University of Texas and it feels so good to finally be in Nashville permanently.
2. You recently performed at Blake Shelton's Ole Red for CMA Fest. Tell us a bit about how that happened and what the experience was like.
It was very surreal because I've been coming to CMA Fest as a fan for years now and I finally made my debut on the hottest stage of the weekend. It was an honor to be a part of such an incredible lineup that included artists I really look up to. Our Hot Country set was also one of the first experiences playing the new songs and it was incredible receiving positive reactions to the music.
3. You recently released your Repaint EP in May. What can you tell us about this EP?
"Repaint" was chosen as the title track because this EP represents where I'm at in my artistic career and in my life. I am in the process of re-envisioning or "repainting" myself as a country singer, what defines country music, and how I fit in sonically. It is my producers and me experimenting with different colors, textures and sounds. The project is rooted in country music, but it has plenty of outside influences. Sonically, "Repaint" was inspired by all the artists I admire from Eric Church to Kings of Leon and Justin Timberlake. The country storytelling is the same, it's got banjo and acoustic guitar all over it, but it also features synthesizers and a spacey U2-like lead guitar.
4. Where can fans see you perform next? Do you have any future tour plans?
We've got some tour plans in the works so follow me on Instagram or Facebook to stay tuned! @tylerdial
5. What is one fun fact your fans may not know about you?
I grew up playing competitive soccer. My club team won five state championships in a row and my high school team won two! I even turned down some D1 offers to play at the Air Force Academy and other great schools, but I've had my heart set on country music since I was a kid, so the University of Texas was a natural fit.
6. Who would be your dream musical collaboration?
I have too many, but if I had to choose right now, I'd say Brothers Osborne. They just released one of my favorite albums of the past couple years, produced by Jay Joyce. They are incredible artists, but more importantly, they are very genuine people!
7. What is the best piece of musical advice you have ever received?
I once saw a Will Smith late-night television interview where he talked about making art for the love of the fans and the art itself. If you can create from a place of love, the songwriting, producing and performing pieces will all take care of themselves.
For more about Tyler Dial, check out his website https://www.tylerdial.com
You May Also Like...
Article | June 27, 2018

This week's New Artist Spotlight showcases rising mother-daughter duo, The Belles. The duo... VIEW ALL

Article | June 20, 2018

Caleb Lee Hutchinson stole America's country-music-loving hearts while he competed on the latest... VIEW ALL