Country Stars Who Have Their Own Restaurants
Find out which of your country favorites moonlight as restaurant owners!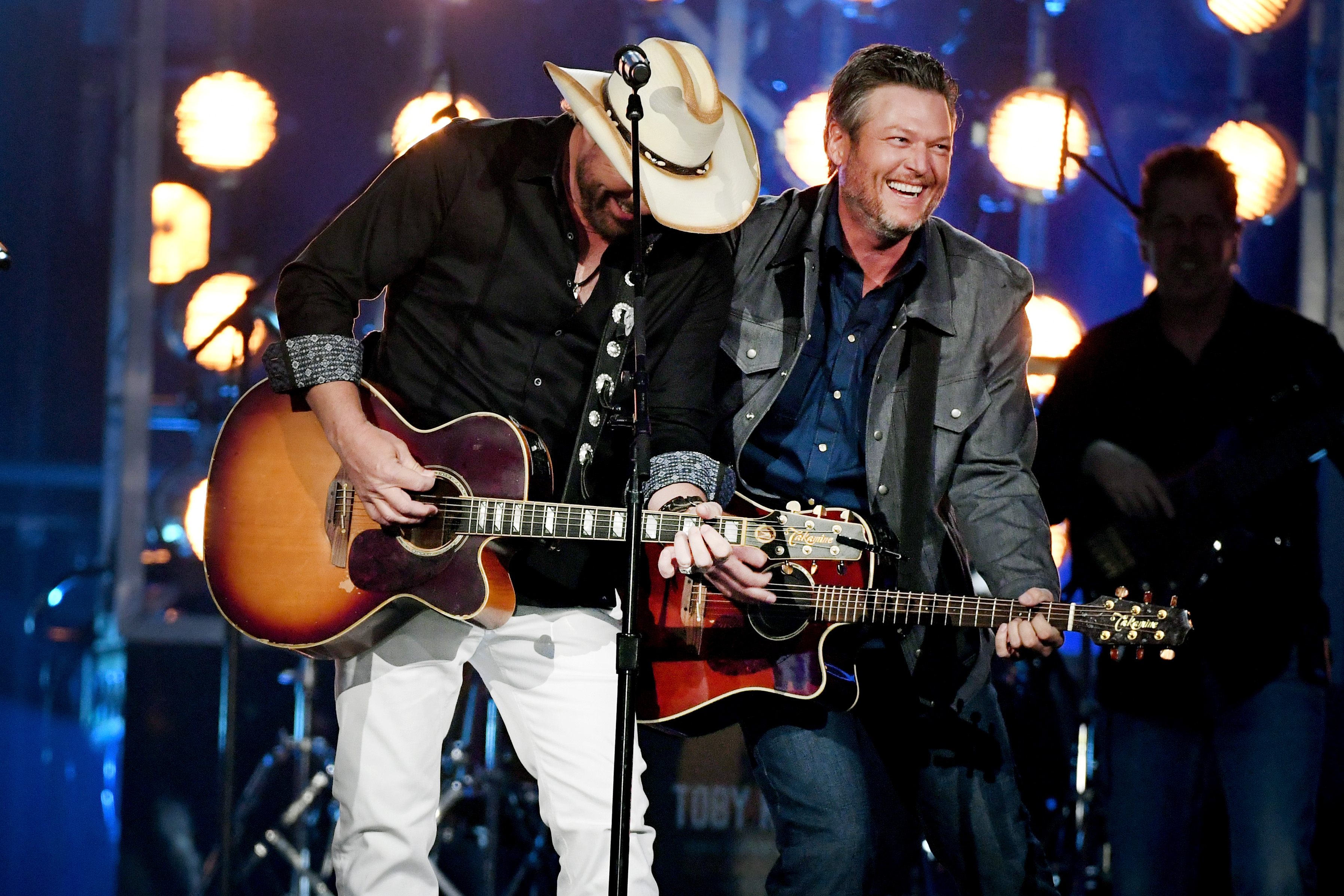 Not surprising, country music and some good home cooking go together hand in hand. Whether it's Toby Keith's hit song "I Love This Bar" or Alan Jackson's "Meat and Potatoes Man," it's clear that food, drink, and good times are the perfect recipe for making a hit country song. But aside from a creating a good tune, many country stars dabble in the culinary arts and have cookbooks, cooking shows and even restaurants!
To help highlight these artists and their eateries, we're compiled a list of country singers that own their own restaurants. So clear your calendar, because as soon as you get through this mouth-watering list, you'll be running straight to these joints for the meal of a lifetime.
Alan Jackson
Restaurant: Acme Feed and Seed
Location: Nashville, TN
This spot has two floors, and is one hell of a time! It's an updated take on the classic honky tonk serving eclectic southern fare as well as has 28 beers on tap, communal tables and live music featuring local Nashville musicians every evening and during weekend brunch.
The rooftop patio has stunning views of downtown Nashville, and apparently, the beer belly tacos are to die for. For more information on Jackson's restaurant, click HERE!
Dierks Bentley
Restaurant: Whiskey Row
Location(s): Nashville, TN; Scottsdale, AZ; Tempe, AZ: Gilbert, AZ.
Three parts Arizona. One part Nashville. All parts country. This amazing restaurant founded by the "Riser" singer is an American gastropub that stands out, just like Bentley has done throughout his country music career. Between the nightlife, award-winning food and drinks, and the venue's rock & roll attitude, this restaurant is a can't-miss experience. Just look at the suspended stage above the bar in the picture below!
For more on the country star's Whiskey Row, check out it's official website HERE!
Toby Keith
Restaurant: I Love This Bar And Grill
Location(s): Oklahoma (Hard Rock Casino, Winstar World Casino, Bricktown)
Toby Keith's bar and grill comes straight from his hit song "I Love This Bar." It's exactly the kind of place described in the song; a bar fit for a country legend like him, and any and all country music fans.
Go to any of the three Oklahoma locations and you'll find oversized artwork and redneck loveseats, which are actually pickup tailgates, and some really savory dishes. Be sure to try the Frozen Jack Daniels and Coke, Calf Fries and the Sweet Pecan Pie!
Check out the restaurant's mouth watering menu and unique decor on it's official website HERE!
Justin Timberlake
Restaurant: Southern Hospitality
Location: New York, New York
While not exactly a country star, this pop sensation's southern roots helped him create one of the best BBQ-joints in New York City!
Though located in the bustling city, thanks to Justin Timberlake, you can take yourself to the country at a moment's notice by dropping in his restaurant, Southern Hospitality. Born and raised in Memphis, Timberlake knows a thing or two about comfort food. The "Say Something" singer's restaurant has a whole lot of something to say, and per the website, "our entire menu is made in house from scratch just like you would expect from your Granny." In other words, you gotta try it!
Get an idea for the pop singer's southern style cuisine by checking out the restaurant's official website HERE!
Honorable Mentions: COMING SOON
Blake Shelton
Restaurant: Ole Red Nashville
Location: Nashville, TN
Opening: May 2018 (next month!)
Also named after a hit song, Blake Shelton first opened this restaurant in his hometown of Tishomingo, Ok in October 2017, and now he's opening a Nashville branch next month in partnership with the famed Ryman Auditorium.
A job fair happened recently to start filling the some 250 positions that the location will create. So Shelton is not only bringing great music to Nashville, but also jobs and delicious food! Just when you thought you couldn't love Blake Shelton more.
John Rich (Big & Rich)
Restaurant: Redneck Riviera
Location: Nashville, TN
Opening: Spring 2018
It isn't exactly clear when this bad boy is opening, but we do know it's Spring 2018, so that could be anytime from this week to next month. Either way, when this place does open one thing is for sure, you'll want to be one of the first in the door. The Redneck Riviera will pay tribute to American troops with a "Heroes Bar," which will serve up Rich's renowned redneck jerky, and will also have a loaded mac 'n cheese dish that gets our mouths watering just thinking about it!
For more on Rich's upcoming restaurant, check out the official website HERE!
You May Also Like...
Article | April 23, 2018

With the summer concert season right around the corner, Live Nation announces National Concert Week... VIEW ALL

Article | April 23, 2018

Kenny Chesney kicked off his Trip Around the Sun Tour in Tampa this weekend to an excited crowd of... VIEW ALL