Four Times Kenny Chesney Pulled On Our Heartstrings
We're celebrating Kenny Chesney with some of his most heartfelt moments.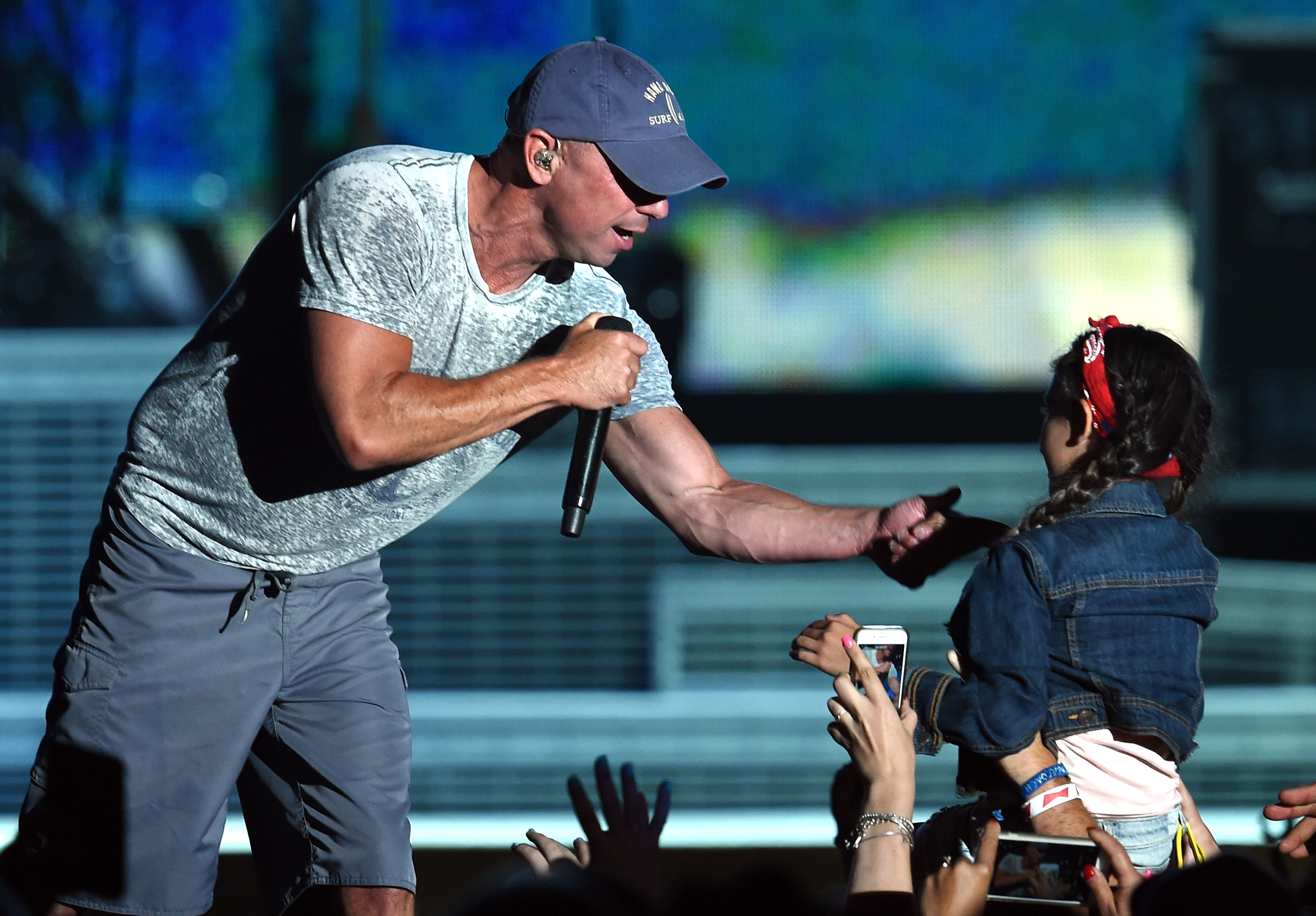 With 20 recorded albums, over 30 million album sales, and a nearly endless list of recognitions including several Entertainer of the Year awards, Kenny Chesney is simply a country icon. Not only is he a country music powerhouse, he's loved by fans around the world.
In honor of his 50th birthday today, March 26, we have decided to compile a list of Kenny Chesney's best fan moments with his "No Shoes Nation" (in no particular order, of course)!
1. Kenny's music once brought two strangers together for a fairytale ending!
It's no surprise that Kenny Chesney's music brings people together, but in this particular case, it literally brought two strangers together - and it ended with a marriage proposal!
On March 27, 2015, Chesney fan Holly Hammonds locked eyes with a stranger, an Army Captain by the name of R.J. Edwards. The two locked eyes throughout the show until Edwards waved to Hammonds. Hammonds managed to sign her phone number in the air, and well, the rest is history! After two years of dating, Edwards surprised Hammonds on the ice with a marriage proposal at the Bridgestone Arena where they first met. A video documenting their marriage proposal went viral, with the post racking over 14 million views after being online for just a couple weeks!
2. Kenny once gave a super fan a kiss on the lips!
During his August 15, 2015 show at the MetLife Stadium in New Jersey, Chesney gave a fan a special moment she'll never forget!
In the middle of his performance of "I Go Back," Chesney pulled a fan from the crowd and brought her onstage. After the song ended, the country singer handed the young woman the mic, where she confessed her love in front of tens of thousands of people! "Kenny Chesney's my true love," she told the crowd. "He inspires me, and right now, I want to kiss him on the lips. Do you want to see it?" Not only did he oblige her with a kiss on the lips, he really let her shine on stage by sharing her story.
3. Kenny Chesney shared a special moment onstage with a fan fighting cancer.
Kenny Chesney ended his 2016 Spread the Love Tour by sharing an experience with longtime fan Kelly Swanson that she'll never forget! Chesney was performing a mashup of "The Joker" by the Steve Miller Band and "Three Little Birds" by Bob Marley when he spotted Swanson in the crowd and pulled her onstage.
"The Good Stuff" singer then took off her Red Sox baseball cap to reveal her shaved head. Chesney then removed his cowboy hat and put his bald head against hers, sharing a touching moment where he sang "Every little thing is gonna be alright" to her.
4. Kenny surprised fans with a performance at St. John's Sun Dog Cafe!
Everyone knows Kenny Chesney has a big heart - he funded the Love for Love City foundation to help benefit Hurricane Irma disaster relief for the U.S. and British Virgin Islands. Together, the foundation has helped repair schools, bridges, built docks and buildings, and even helped set up lights and provided people coolers to people without power.
The support Chesney and his foundation have provided is invaluable, and he recently stopped by St. John's Sun Dog Cafe during their Wednesday Night Jam and surprised fans with an intimate performance of "Old Blue Chair".
We're certain there's many more moments like these in Chesney's career and to that, we say THANK YOU, KENNY! Here's to 50 more years around the sun for the superstar icon!
You May Also Like...
Article | March 23, 2018

Miranda Lambert is one of country music's top female talents. Her ability to infuse traditional... VIEW ALL

Article | March 23, 2018

Jordan Davis' debut album, Home State, is officially out and we can't take it off constant repeat... VIEW ALL