Birthday Gifts Brett Eldredge & Brett Young Would Love
Find out what birthday gifts we think Brett Young and Brett Eldredge would love!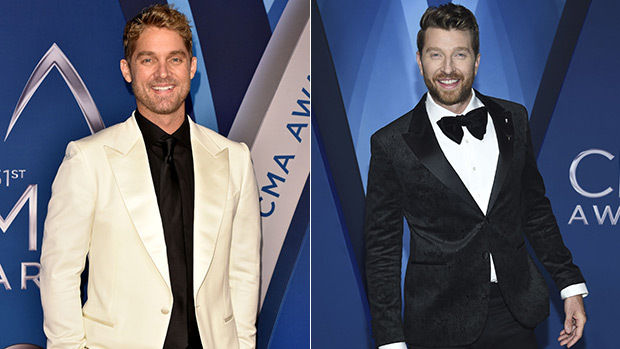 March 23 is all about the Bretts! "In Case You Didn't Know," it's both Brett Young AND Brett Eldredge's birthday and while country stars have birthdays all year long, it isn't that often that two of the best in the game, with the same name, share the same day!
To help celebrate the exciting occasion, we're going to dedicate this post to them. They've given us the gift of amazing country music and good vibes, so we've decided to comprise a unique list of gifts we hope they'd love. Because hey, it's the thought that counts right?
1. Co-writing With Their Biggest Inspiration
For Eldredge, this would be none other than the original crooner — the late, great Frank Sinatra. Eldredge has admitted that Sinatra is his biggest inspiration, and that should be clear based on how many of his songs the country star has covered. Every year around Christmas, the "Mean To Me" singer performs a setlist of exclusively Sinatra serenades, melting the hearts of everyone in attendance. We're pretty sure Eldredge's heart would also melt if he got the chance to write a song with his musical idol, but his amazing covers are just as good.
For Young, this would have to be Gavin Degraw. After the "Like I Loved You" singer had to leave his promising baseball career due to an injury, Degraw's music was what reminded Young of his passion for music. Hearing Degraw's album Chariot was the spark that the country singer needed, and he hasn't looked back since.
Listen to Brett Young talk about his epiphany below!
2. Gift Cards To Their Favorite Restaurants
Brett Young is an absolute die-hard fan of Buffalo Wild Wings. In another interview with iHeart Radio, he revealed that it's basically the only place he'll ever go when he's touring. He claims the restaurant (and of course the food) help him feel at home since there's a Buffalo Wild Wings almost everywhere you go.
For Eldredge, this would definitely be Zaxby's. He's such a fan that a Zaxby's salad inspired a rift between Eldredge and long-time friend Thomas Rhett! Check out the hilarious Zaxby's commercial starring Eldredge and Rhett HERE, which features the infamous spat.
Brett Eldredge and Thomas Rhett on a Zaxby's commercial
3. A Western Birthday Cake Done Right
Feast your eyes upon this cake, and tell me a couple of blue-blooded country stars like Brett Young and Brett Eldredge wouldn't want to wolf this down on their birthday. It's got all the makings of an amazing country cake — an acoustic guitar made out of cake, hay bales made out of rice krispies, and an edible cowboy hat.
Let's face it, this is the perfect cake for any country fan!
Country Inspired Cake
4. A Lifetime Supply of Jack Daniels Whiskey
Both Brett's are open about their love of whiskey. To bring things full circle for Eldredge, Frank Sinatra adored whiskey, and even had his own signature line of Jack Daniels for a while, so it makes complete sense that the sountry crooner would hop on that train. Hear him talk about his love of Whiskey and Sinatra here.
And Young? Well, he just loves it. Look at how many times he answered "whiskey" in this cool rapid-fire interview!
We hope you enjoyed reading this list, and that the both Young and Eldredge have the awesome birthdays they deserve, filled with plenty of country music and good times.
You May Also Like...
Video | August 04, 2017

Article | December 06, 2017

Brett Young paid a visit to Live With Kelly & Ryan recently where he inspired some serious holiday... VIEW ALL