Jason Aldean Announces Stadium Concert With Special Guest Hootie & The Blowfish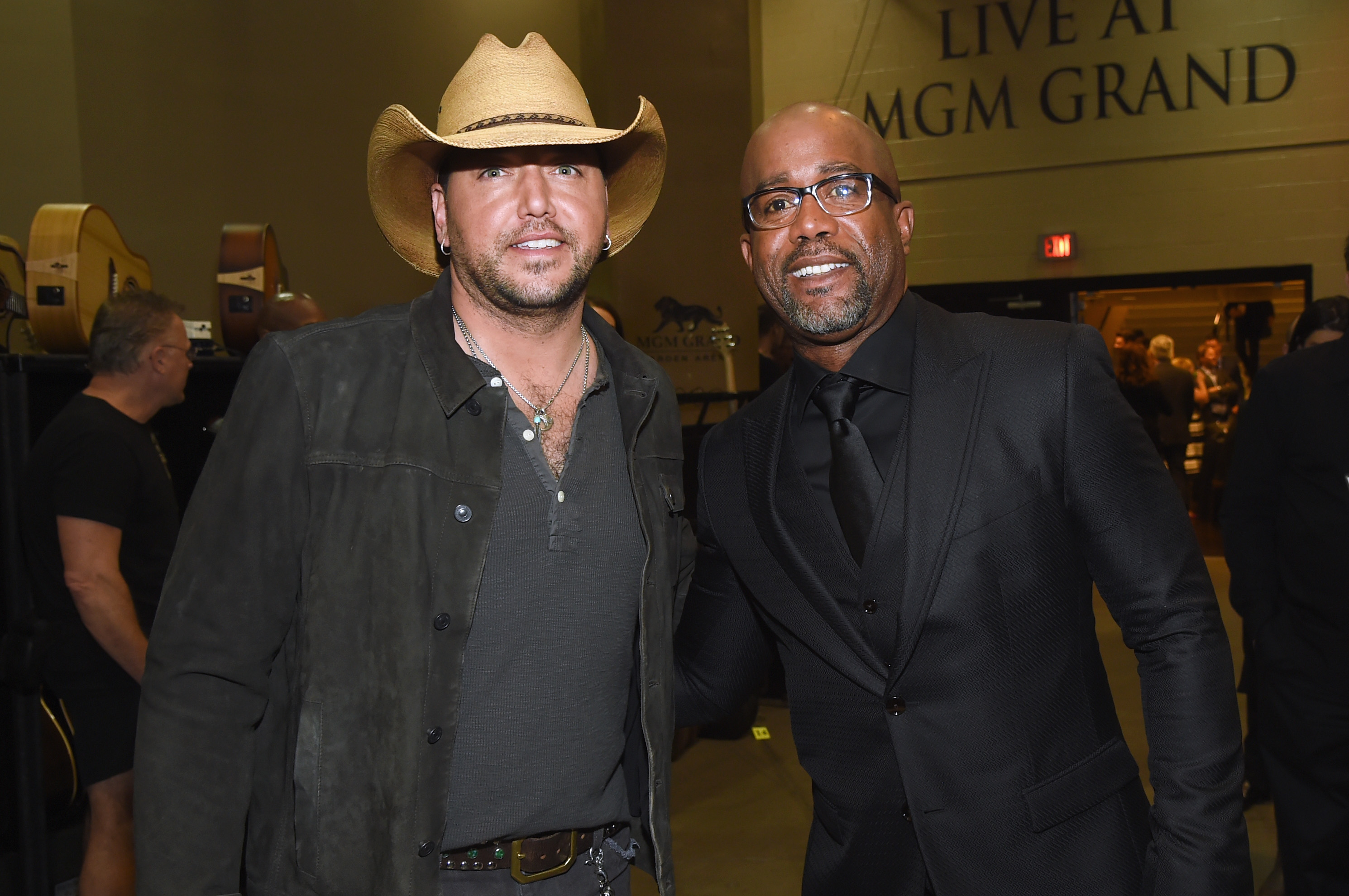 Jason Aldean returned to his home state of Georgia earlier today, March 14, to share some pretty big news regarding his High Noon Neon Tour! On July 21, Aldean will perform at the new Atlanta Braves stadium with an incredible one-night-only lineup. Even more exciting, however, Darius Rucker announced Hootie & the Blowfish will reunite for the night to serve as direct support for the show!
Alright, y'all… we're getting the band back together! @Jason_Aldean asked @HootieTweets to join him, @lukecombs and @Lauren_Alaina in Atlanta, GA on July 21st!! Can't wait to see you there! pic.twitter.com/wsHFoIoH8I

— Darius Rucker (@dariusrucker) March 14, 2018
During the exclusive press conference, Aldean was joined by President of Live Nation Country Touring Brian O'Connell, legendary baseball player Chipper Jones and tour opener Lauren Alaina along with Luke Combs who joined via video. "Out of all the shows we've played, I know this show is going to be a career defining moment," said Aldean during the press conference. "We haven't had a chance to play Atlanta in a couple years in anticipation of this show and I know this night is going to mean a lot to my family and me. I've followed the Braves my whole life….was even at the '95 game when they clinched the World Series…so this is a huge full circle moment for me."
I'm feeling pretty Chipper today. I'm so excited for the tour this year with @Jason_Aldean #YesThatIsChipperJones #GoBraves 💃🏼⚾️💃🏼⚾️ pic.twitter.com/CnrmSslNG9

— Lauren Alaina (@Lauren_Alaina) March 14, 2018
O'Connell also added, "Last Spring we were brainstorming what could happen this year to spice up Jason's touring routine, and the top thing on his mind was to play the home of the Atlanta Braves. It's important to understand Jason's history with Georgia not only as an entertainer but as a person who wants to honor his roots. He is the only Country music artist to play UGA's Sanford Stadium and now SunTrust Park and I know it's going to be the show of the summer in Atlanta."

Fans can purchase tickets beginning next Friday, March 23, at 10AM ET at JasonAldean.com and LiveNation.com.

You May Also Like...
Article | March 14, 2018

While the tour doesn't begin until this summer, Miranda Lambert and Little Big Town already... VIEW ALL

Article | March 14, 2018

Born and raised in East Kentucky, Tyler Childers has not forgotten his roots. Childers grew up on... VIEW ALL