March Madness: Country Stars Who Love Basketball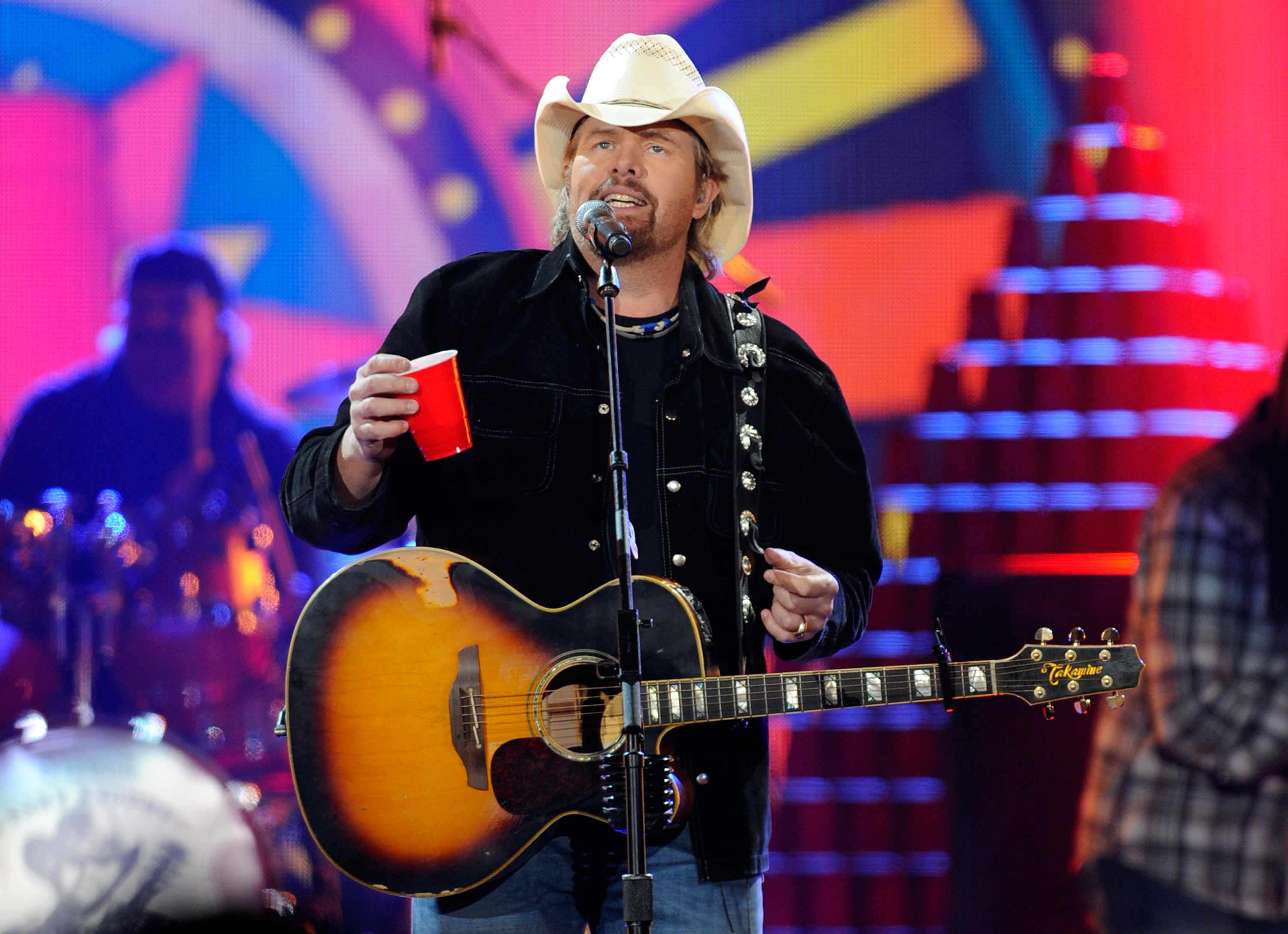 People, it's official. The first day of spring is just around the corner, kicking off sunnier days and one of our favorite sport seasons of the year! Two words: March. Madness.
College basketball's premiere tournament kicks off tomorrow, March 13, with the play-in games, and some of your favorite country stars are gearing up. Country music and sports go together like apple fritters and a cold glass of milk, and for these big-time country artists, you know their love for the sport runs deep.
Here are some of country music's die-hard fans and the NCAA teams they root for!
1. Toby Keith
Favorite team: Oklahoma Sooners
The "Red Solo Cup" singer likely loves one thing as much as country music in this world, and that's the Oklahoma Sooners.
Born in Oklahoma, Keith's long been a fan, and is no doubt celebrating already as the Sooners' men's college basketball team barely snuck into the NCAA tournament field during yesterday's bracket reveal. Keith's connection to the team was made even deeper in 2009 when his friend and fellow country star, Wayman Tisdale, passed away. He wrote a touching tribute to Tisdale titled "Cryin' For Me (Wayman's Song)" that you should listen to below, along with a 2015 interview with Keith about just how much he loves Oklahoma University sports.
2. Vince Gill
Favorite team: Belmont Bruins
It should be no surprise that Vince Gill's go-to basketball team hails from Nashville. The "When I Call Your Name" singer didn't venture far from country music's capital in terms of his favorite basketball team due to a long-standing friendship with Belmont men's basketball coach Rick Byrd. Belmont is an incredible music school not far from Music Row, and has a respectable basketball program as well. And well, if Vince Gill likes it, it's got to be good!
To honor the country star's dedication to the team, Belmont even offered him an honorary doctorate. See the ceremony below to learn more about Gill's life and amazing accomplishments.
Also check out his interview with the Belmont Vision, and learn why Gill is such a self proclaimed Belmont super fan!

3. Luke Bryan
Favorite team: Georgia Bulldogs
While Bryan graduated from Georgia Southern University, he still considers himself a Georgia University Bulldogs fan. The country star has always loved basketball, known to praise the passion of sports fans in the South, and will no doubt be tuning in to this year's March Madness tournament.
Bryan even plays a little himself — no matter the cost. On a previous tour, he injured his knee while shooting hoops with Rascal Flatts bass player Jay DeMarcus. But that hasn't stopped him from loving the game (or playing country music), because a recent music video for his hit song "Light It Up" featured professional basketball player Jimmy Butler of the Minnesota Timberwolves. Hopefully his Bulldogs make it in!
4. Garth Brooks
Favorite team: Oklahoma State
What better team for a country star to root for than the Cowboys? Garth Brooks is a major fan, and even though his team didn't earn a bid to this year's tournament, he'll stick by their side. Ironically, on his past People Loving People Tour, he actually worked with Oklahoma State rival Kansas University to host a basketball camp for inner city teens. We wouldn't be surprised if the country icon's charity work, Teammates for Kids foundation, will bring the Cowboys some good karma and give them better luck next year. We know he'll still be watching.
Artist: Garth Brooks. Photo: Rick Diamond, Getty Images
5. Trace Adkins
Favorite team: Baylor Lady Bears
Trace Adkins has always been a big fan of the Baylor Lady Bears due to their head coach Kim Mulkey.
In fact, Mulkey used to be his college crush. Adkins would frequently tell the story of his unrequited college love with Mulkey before playing his song "One In A Million" at his shows. And one time, Mulkey's sister was in the audience! Taken aback, Mulkey's sister immediately put Kim back in touch with Adkins. The two have been friends ever since, and Kim even walked Adkins to center-court to perform the national anthem in a 2012 Baylor game. With how crazy the NCAA tournament is, it's a one in a million chance the Lady Bears win it all, but at least they have his song to keep them motivated!
We hope this list got you excited for this year's March Madness tournament. It's one of the most exciting sporting events of the year, and we hope you turn on the TV, fire up the country music, and have an awesome watch party!
You May Also Like...
Gallery | March 09, 2018

Article | March 12, 2018

Kacey Musgraves officially announced that she will embark on a world tour in 2018 at C2C Festival... VIEW ALL