Kelsea Ballerini Shines At Sold-Out Ryman Show
ARTICLE
|
February 15, 2018
Get an inside look into Kelsea Ballerini's sold-out Valentine's Day Ryman show!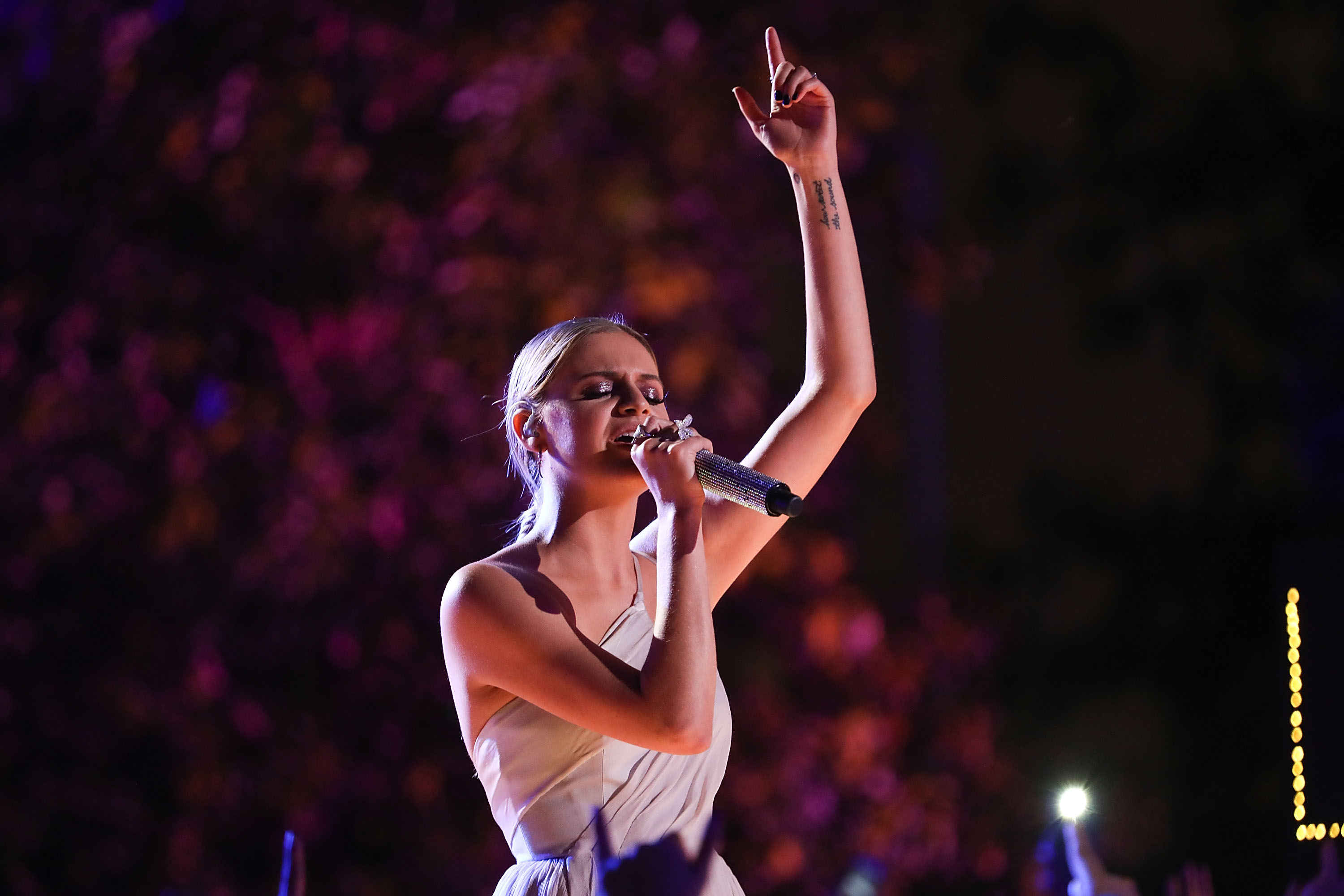 Kelsea Ballerini had big plans this Valentine's Day: a sold-out show at Nashville's Ryman Auditorium. Even though she came down with the flu within twenty-four hours of the concert, Ballerini shined throughout the whole evening of her Unapologetically Tour.
The evening kicked off with one of our favorite rising country artists, Bailey Bryan. Bryan graced the Ryman stage for her second time, nearly one full year after opening for Dan + Shay last February. Last time? A full band. This time? Just Bryan and her guitar. Our favorite moment of her set was her emotionally raw performance of "Songbird." Bryan was brought to tears introducing the song, which she wrote when she was battling a hard period of anxiety and depression. Bryan was a lovely introduction and an integral part of such a brilliant evening.
Bailey Bryan at the Ryman
Walker Hayes took the stage next, starting a party from beginning to end. Getting the crowd on their feet, Hayes danced his set away. His witty lyrics and unique rhythms are even more enthralling live, as Hayes was sure to tell the story behind each of the songs he was performing.
Our two favorites of his set were "Beckett" and "Craig." "Beckett," a song inspired by his son, was especially special last night, as Beckett's middle name is Ryman. Walker laughed that Beckett would be bragging about the crowd singing along forever. Now, "Craig" was a one-of-a-kind moment. The real-life Craig, the inspiration for the song, was in the Ryman audience with his wife. Hayes nearly broke down while introducing the song, expressing his extreme gratitude for the man in the room who changed his life with extreme care and understanding. Hayes closed his set with his first number-one single, "You Broke Up With Me."
Walker Hayes at the Ryman
Ballerini took the stage at 9:15PM and did something unique for this day and age: played the entire Unapologetically album from top to bottom.
The show was divided into the three "chapters" of her album: loss, life and love. She even had an outfit change for each section of the show, including the encore of her hits from her debut album.
Kelsea Ballerini and Morgan Evans at the Ryman
The absolute highlight of the night was when Morgan Evans joined Ballerini on stage for their first Valentine's Day as a married couple. This was not their only first of the night, however. Believe it or not, this was the first time Ballerini and Evans performed together on stage! Evans surprised her with flowers, to which she responded, "I thought he forgot it was Valentine's Day!" They performed a beautiful version of his unreleased song, "Dance With Me," which Evans introduced as the first song he ever wrote for Ballerini. The tear-worthy love song contained lyrics of love and trust, with Ballerini's harmonies beautifully scattered throughout.
See our video of the performance below:
It's not every night that you get to witness this type of magic... @KelseaBallerini & @Morgan_Evans performing on stage together for the first time! The best #ValentinesDay we could ask for at @theryman! 💒✨ #kb2tour pic.twitter.com/yX5dUZLrS2

— MegaCountry (@MegaCountry) February 15, 2018
One of our other favorite moments of Ballerini's set was her raw rendition of "In Between," aptly in the middle of the set and album. She was sure to embrace the Ryman's acoustics and step in front of the microphone for "Love Me Like You Mean It," which closed out the night.
"I Hate Love Songs" also embraced the spirit of Valentine's Day perfectly. Ballerini brought a fan who's an aspiring artist up on stage to sing "Dibs" with her. She even made sure to call out the fans she recognized in the audience and thank them for their immense dedication.
Kelsea Ballerini at the Ryman
We couldn't have imagined a better way to spend our Valentine's Day. Check out the remaining dates of the Unapologetically Tour here because this is not a show to be missed!
You May Also Like...
Article | February 14, 2018

Happy Valentine's Day country music fans! While today is traditionally the celebration of romantic... VIEW ALL

Article | February 15, 2018

With the success of his self-titled album and seventh top-10 single "The Long Way", country... VIEW ALL