Country Music's Cutest Bromances
ARTICLE
|
February 14, 2018
From McGraw and Chesney to Bentley and Moore, see the bromances that inspire us!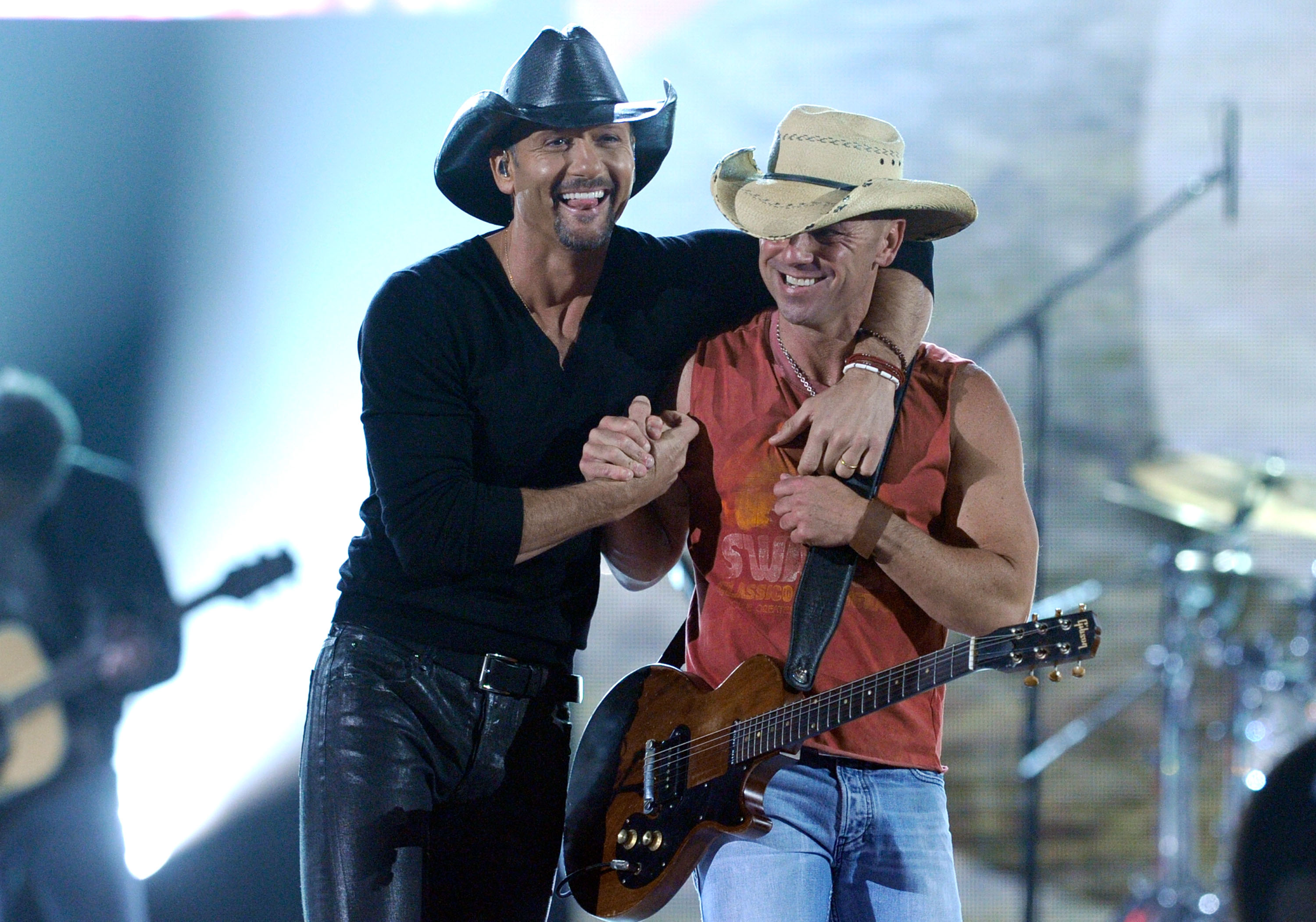 While we often recognize and celebrate the coming together of a romantic couple, platonic love deserves its due. From Dierks Bentley and Kip Moore to Tyler Farr and Jason Aldean, these country duos are each known for their larger than life friendships, the kind we all wish we could be apart of.
So while we'll still celebrate and swoon over our favorite country couples, let's take a moment to honor country music's cutest bromances.
Tyler Farr & Jason Aldean
These former tour mates on the 2013-2015 Burn It Down Tour are no strangers to interest in their friendship.
Farr, in a 2016 interview with The Boot, on the subject of Aldean said, "He's a great entertainer, and he is very honest with me, and I'm very honest with him. He'll call me bad names, I'll call him bad names right back. I think that's why we became good friends." When asked about continuing on the road together, Farr joked, "We decided [this] year would be too much because people might think we're more than just tour buddies, … I don't know if he has a man crush on me. He's kept me out for two years."
Hopefully, we'll have the chance to catch these two in concert together again someday soon.
Dierks Bentley & Kip Moore
These former tour mates have as much offstage fun as they do on. Dierks Bentley's 2015 Sounds of Summer Tour featured fellow country stars Kip Moore, Maddie & Tae and Caanan Smith, and Bentley decidedly kicked things off by making his openers do the polar plunge in Nashville in January!
Kip, a self-proclaimed "pansy when it comes to cold weather," determined this act called for retribution and returned the favor with a hilarious prank of his own. Only the truest of friends can inflict this much comedic pain on one another and just laugh it off.
Hear the full stories from Moore and Bentley in the videos below:
Tyler Hubburd & Brian Kelley
While this may seem like an obvious choice, it felt impossible not to include this brotherly duo on a list of great bromances.
Tyler Hubburd and Brian Kelley formed their musical duo, Florida Georgia Line, in college, both students at Nashville's own Belmont University, and began writing songs together after their classes. Soon after, they started playing local gigs, developed a grass-roots following, released an EP in 2010, their hit single "Cruise" in 2012 and the rest is history. Now that both men are married, with Hubburd a newly minted father to boot, they are closer than ever.
Their wives, Hayley Hubburd and Brittany-Marie Cole Kelley, are just as close as their chart-topping husbands. We look forward to more stunning red carpet photos from the now five "fam" members of Florida Georgia Line.
Tim McGraw & Kenny Chesney
Tim McGraw and Kenny Chesney are both country legends in their own right, but when these two team up, it's a recipe for a wild party. Aside from touring and making music together, however, Chesney and McGraw can enjoy each other's company in the simplest of situations.
"I'd go there to eat. Faith's a great cook. I could sit in my house when I got off the road on a Sunday afternoon and eat a bag of Doritos and watch football, or I could go over there and sit on Tim's couch and eat Faith's cooking," Chesney told People. "What would you do?" Then, as if that wasn't reason enough to stay put, Chesney adds how McGraw gifted him a wall. "When I toured with Tim in 2001, I bought a house and wanted to put in a pool but had to build this wall into a hill to do it," he said. "I didn't want to spend the money. Anyway, McGraw paid for that wall. That was awfully nice of him."
People Magazine Cover, July 2012
Luke Bryan & Blake Shelton
Last, but certainly not least, you might recognize this pairing as the hosts of the ACM Awards, 2013 through 2015. While the two had a great run, producing some hilarious clips like the one below, Shelton was unable to continue on in the role, but that didn't affect their friendship one bit.
From Bryan joining Team Blake on NBC's The Voice, to their exceptional and unique cover of George Strait's "All My Ex's Live in Texas," there's nothing these two can't spice up with their special brand of camaraderie.
You May Also Like...
Article | December 19, 2017

Taking a break from his brief musical hiatus and promoting his latest album Cosmic Hallelujah... VIEW ALL

Video | February 14, 2018