Willie Nelson, Kacey Musgraves & More Transform Johnny Cash's Poetry
ARTICLE
|
February 08, 2018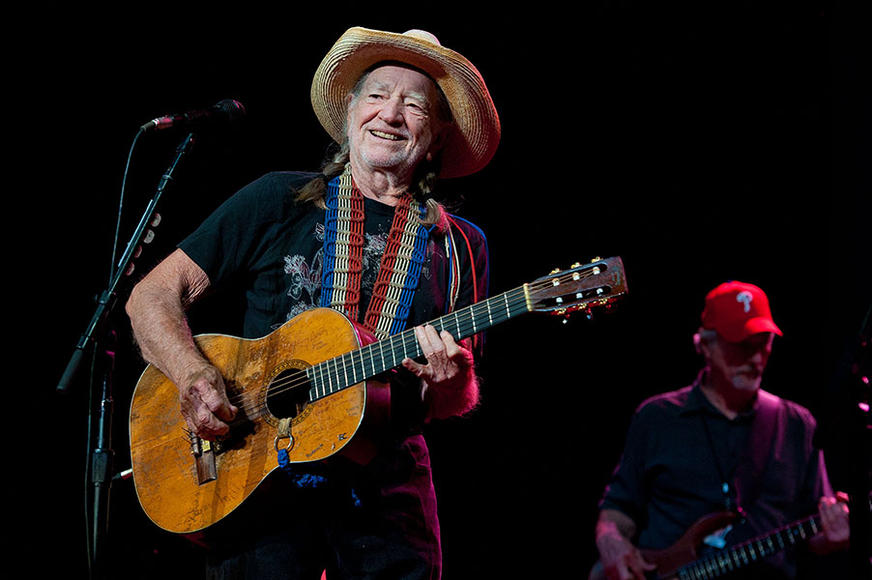 Johnny Cash was well known for his sharp lyrics and considered a true wordsmith in the country community. Aside from his music though, Cash had a series of letters and poetry as well as potential lyrics that went unused during his musical career. To help breath new life into his written words, an incredible line-up of musicians are transforming Cash's unseen work and turning them into full-fledged songs on a new album called Johnny Cash: Forever Words. Artists featured on the upcoming record include Willie Nelson, Kacey Musgraves, Alison Krauss and Union Station, Kris Kristofferson, John Mellencamp and the late Chris Cornell.
Musgraves shared news of the upcoming album on her socials, exclaiming her excitement of being a part of such a unique and heartfelt project for the country icon.
The album is a companion to the book Forever Words: The Unknown Poems, which is a culmination of writings from Cash that Johnny and June's son, John Carter Cash, acquired after their deaths. John Carter Cash and Steve Berkowitz produced the new album and had the tracks recorded at The Cash Cabin Studio in Hendersonville, Tennessee. "Determining the artist for each song was truly a matter of the heart," said John Carter Cash in a press release. "I picked the artists who are most connected with my father, who had a personal story that was connected with Dad. It became an exciting endeavor to go through these works, to put them together and present them to different people who could finish them in a way that I believed that Dad would have wanted."
Johnny Cash: Forever Words will be released on April 6.
Johnny Cash: Forever Words track list:
1. "Forever/I Still Miss Someone" – Kris Kristofferson and Willie Nelson
2. "To June This Morning" – Ruston Kelly and Kacey Musgraves
3. "Gold All Over the Ground" – Brad Paisley
4. "You Never Knew My Mind" – Chris Cornell
5. "The Captain's Daughter" – Alison Krauss and Union Station
6. "Jellico Coal Man" – T. Bone Burnett
7. "The Walking Wounded" – Rosanne Cash
8. "Them Double Blues" – John Mellencamp
9. "Body on Body" – Jewel
10. "I'll Still Love You" – Elvis Costello
11. "June's Sundown" – Carlene Carter
12. "He Bore It All" – Daily and Vincent
13. "Chinky Pin Hill" – I'm With Her
14. "Goin', Goin', Gone" – Robert Glasper featuring Ro James, and Anu Sun
15. "What Would I Dreamer Do?" – The Jayhawks
16. "Spirit Rider" – Jamey Johnson
You May Also Like...
Article | December 12, 2017

Kacey Musgraves gives an insightful inside view into her upcoming album Golden Hour. The country... VIEW ALL

Article | April 18, 2017

When Brad Paisley released the track list for his upcoming new album Love and War, he had a number of... VIEW ALL