MegaPick: Old Dominion
ARTICLE
|
August 25, 2017
The group's album, 'Happy Endings', is officially out and we can't stop listening to it!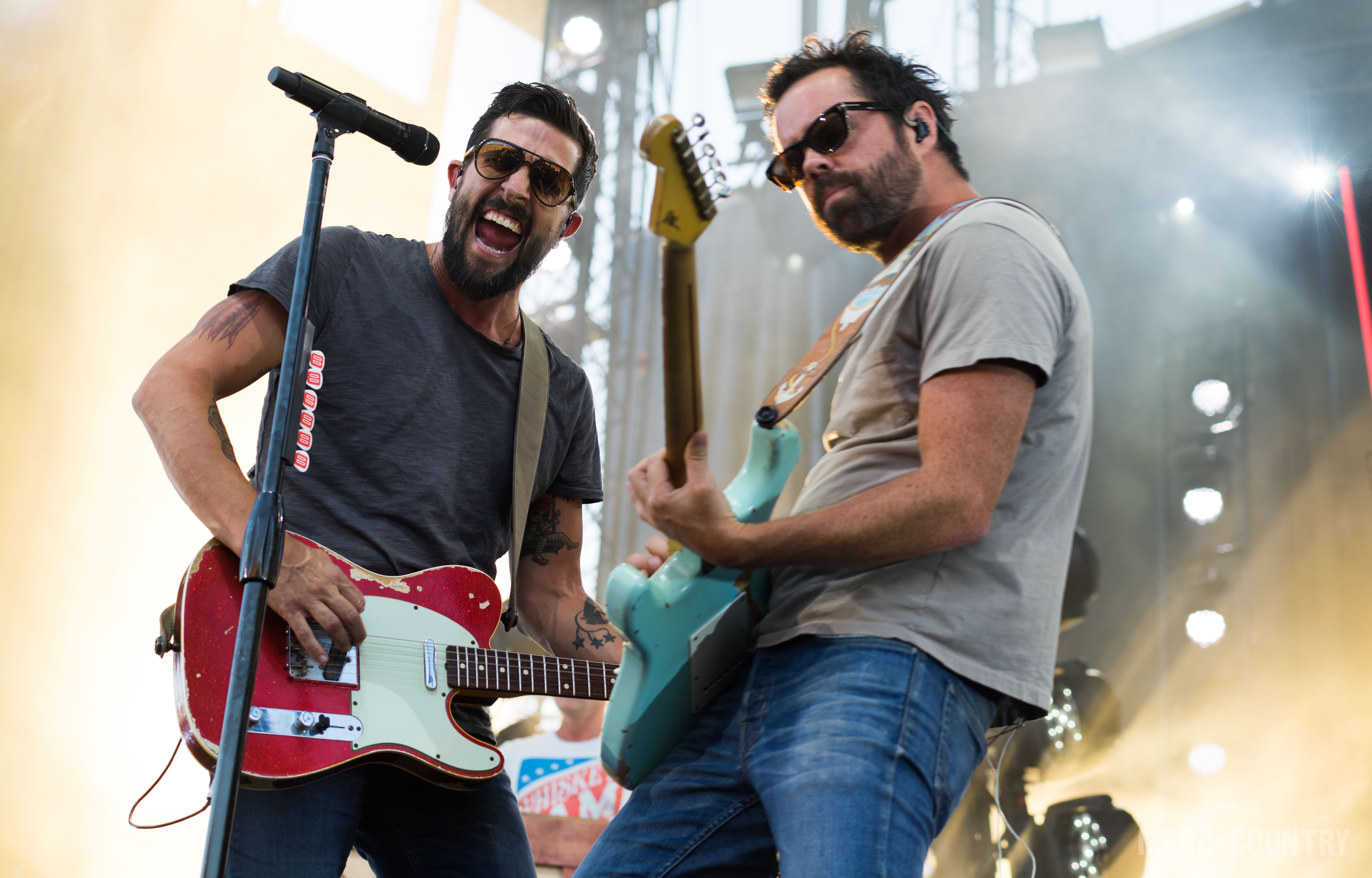 Old Dominion's new album, Happy Endings, is officially out and we can't stop listening to it. Happy Endings, follows one EP and their debut album, Meat and Candy, along many songwriting hits for the band-members who include Matt Ramsey (lead singer), Trevor Rosen (guitar, keyboard), Whit Sellers (drums), Brad Tursi (guitarist), and Geoff Sprung (bass guitar).
One of the many qualities that make Old Dominion so unique is the fact that each of the guys are expert songwriters, so Happy Endings is a montage of fun, country tunes crafted together as a team. Trevor Rosen told The Boot, "We've been writing — obviously we write all the time, and these are just some of the best ones that are out of that group. We're very proud of who we've become as writers from this point. When you tour for years and years and years, like we have, you can only help but grow. I think we've grown, and I think it's still us; it's a new us in some ways, and it's the same old us in other ways. I'm very excited, myself, to get it out."
Old Dominion's Album Happy Endings
"Hotel Key" is a high energy, upbeat tune that's fun to sing along with, making you want to leave it on constant repeat. ("She kept the hotel key / Slipped it in her purse I guess / It makes her think of me / And that night we left our hearts on the sleeves and the clothes all over the floor / we both know we cant open the door no more / She kept the hotel key")
The heartfelt ballad, "So You Go," tells the story of a recent breakup that makes no sense, while for what went wrong. Thankfully this one has a happy ending, but we won't spoil it for you. (So you go all kinds of crazy just thinking that she might be gone / You go out of you're mind at the thought that she's finally moved on / She tells you it's over / This time she means it / She doesn't love you / But you don't believe it")
"A Girl is A Gun" is a clever, upbeat, metaphorically written song that compares girls and heartbreak to the danger of holding a gun. ("A girl is a gun / She's harder to handle than you think, son / You feel safe when you're with her / Think twice before you pull the trigger / Feels good in your hand from the first little spark / But guns shoot bullets and bullets break hearts / Heart breaks a bitch / She'll kill you with a kiss / So be careful when you're holding one / 'Cause a girl is a gun)
"Stars in the City" features Little Big Town contributing their specialty: sweet, sweet harmonies. The subject of "Stars in the City" is a girl who sees the best in everything around her—including the man singing the song. ("She can see the stars in the city / Sees a diamond where the world sees dust / Finds the glitter in the gritty / I know I ain't much but / That girl sees something nobody else can see / Maybe she sees something in me / Yeah, she can see the stars in the city")
In "New York at Night," Brad Tursi, the lead guitarist, surprises us by taking the wheel as lead singer in this upbeat song about a new love interest being as capturing as New York at Night.
Overall, Happy Endings is everything that we love about Old Dominion: the perfect combination of rock and country, with cleverly written and fun-loving lyrics. You can order Old Dominion's newest album, Happy Endings, here. Check out their tour dates here, and buy tickets to catch them live.
Happy Endings track listing:
1. No Such Thing As A Broken Heart
2. Shoe Shopping
3. Not Everything's About You
4. Hotel Key
5. Be With Me
6. Written in the Sand
7. So You Go
8. Stars in the City
9. New York at Night
10. A Girl Is a Gun
11. Still Writing Songs About You
12. Can't Get You (Live)
You May Also Like...
Article | August 24, 2017

Coastal Country Jam is taking over Southern California once again! The beachfront festival returns... VIEW ALL

Gallery | August 24, 2017