Keith Urban & Lauren Alaina Team Up For Live Duet
ARTICLE
|
August 02, 2017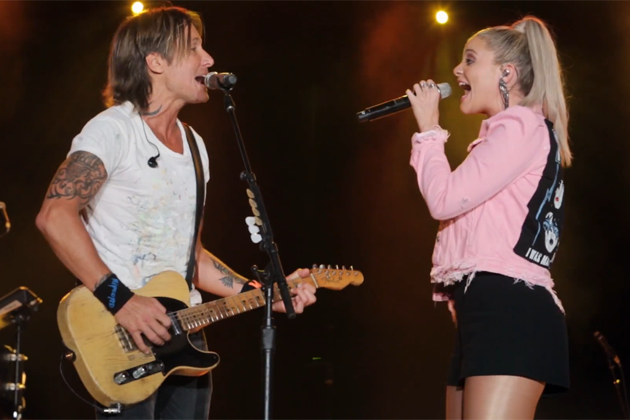 Originally performed with Miranda Lambert on his Fuse album, Keith Urban invited Lauren Alaina onstage for a beautiful rendition of his duet "We Were Us."
During his Monday night, July 31, performance at the California Mid-State Fair in Paso Robles, Urban shared the stage with surprise guest Alaina and treated the crowd to an impromptu duet. According to Urban, "We don't get to perform this song ever in our set, but I heard Lauren sing it and I'm like, "You gotta come up and sing this song with me," and she's like, "Ok I'll give it a shot!" The two then immediately jumped into the song and to the crowds delight, showcased some killer chemistry as well as strong vocals.
Watch the duo's live performance of "We Were Us" in the video below:
Similar to Urban's spontaneous onstage collaboration with Frankie Ballard last month in Iowa, Alaina was present due to her performance earlier in the day. The "Fighter" singer knew she could handle the part as he heard her cover the song during her set and was convinced he needed Alaina onboard for a duet of their own. Urban later took to social media to sing the "Road Less Traveled" singer's praises for her vocal chops and even added, "Hey Lauren Alaina - I got an open mic for u anytime."
While we hope for further collaborations in the future, both Urban and Alaina have pretty hectic schedules at the moment. Urban is currently headed to Canada for his 2017 Ripcord World Tour, with his next show scheduled for Saturday, August 5, at the Big Rose Jamboree in Camrose, Alberta. Alaina in the meantime has been making the rounds on the festival circuit, with her latest stop at the Red Rocks Amphitheatre in Morrison, Colorado, August 1, where she opened for Darius Rucker. The singer is also currently promoting her newest single, "Doin' Fine."
You May Also Like...
Article | August 02, 2017

This week's New Artist Spotlight features rising country artist Clayton Anderson. Born and raised... VIEW ALL

Article | August 02, 2017

Hardly anything can outshine the classics, such as Joe Nichols' hits "Sunny and 75″ and "Yeah." But... VIEW ALL