Thomas Rhett Unleashes The Details For New Album 'Life Changes'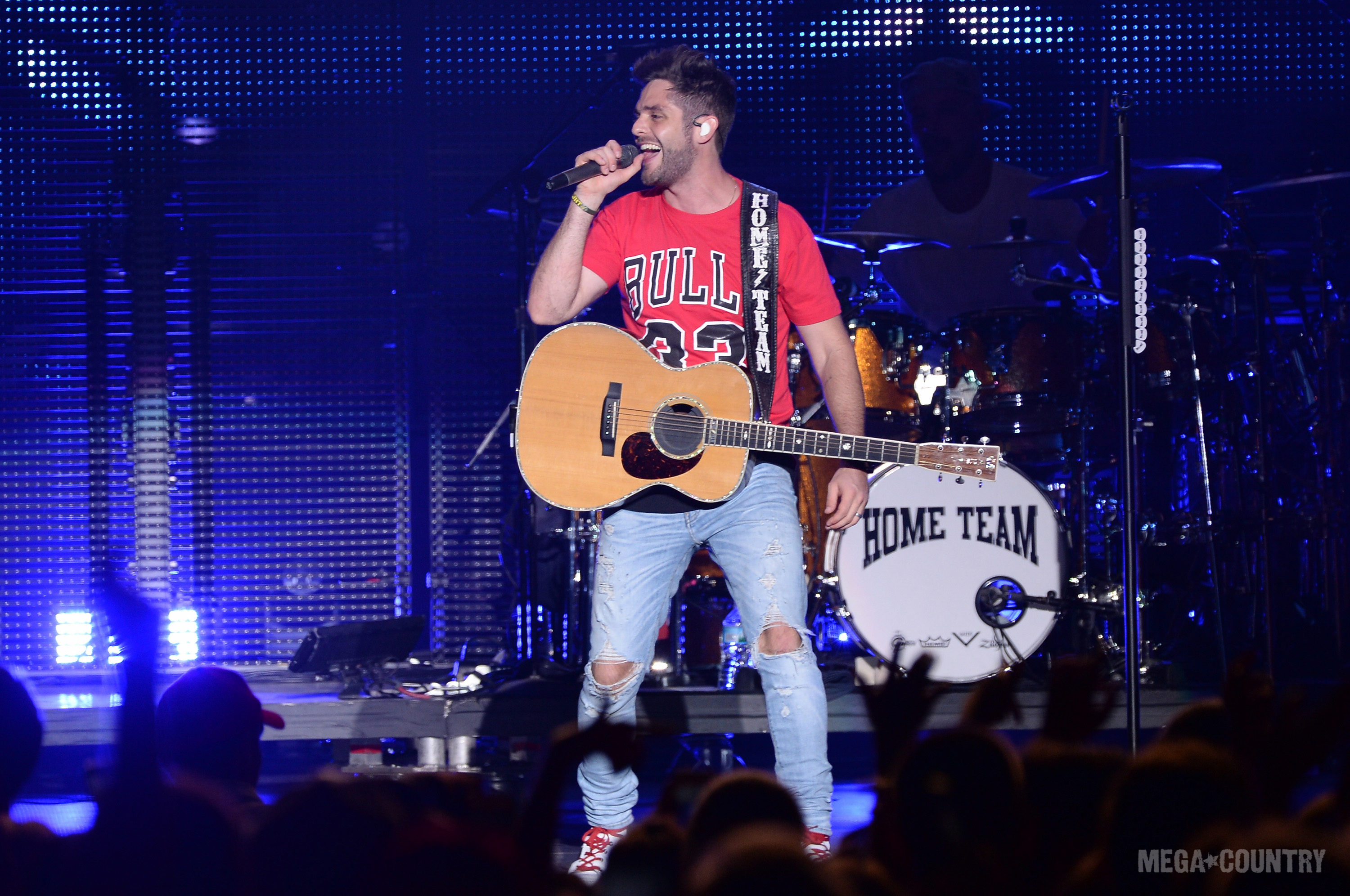 What a whirlwind it's been for Thomas Rhett. He won song of the year at the Academy of Country Music Awards with "Die A Happy Man," he and his wife Lauren made the decision to adopt their daughter Willa Gray from Uganda, Lauren is due to have another daughter on August 8 (so soon!!!), and the couple recently took an amazing series of maternity photos.
That's a lot of change in a little time. And since the times they are a changin', Rhett appropriately named his new album Life Changes. The country singer revealed today that the project will drop on September 8 — exactly a month after their daughter is set to join the family.
Fans are in for a real treat with the upcoming release of Rhett's third studio album. The country star really shows his true story-telling abilities. Ten of the fourteen songs were personally written and hand-crafted by the "Make Me Wanna" singer, and "Drink A Little Beer" even features his father. The tracks are going to get personal in a way that is going to be really profound. Rhett admits that Life Changes is the best biography he could possibly write, because it traces his life's trajectory from college until now.
His hit with Maren Morris, "Craving You," was already released for the album, and the single "Unforgettable" cuts loose tomorrow, July 28. The rest of the project is something special, and Rhett boldly ventures into uncharted territory. The singer does explain that "I am and will always be a country artist. It's who I am, it's in my blood." But, he also states that "I will always try to push boundaries because that rebellious side has been in me since I was a kid." It makes sense that this album is expected to be a sweet mix of EDM elements, 90′s rock, heartland music, smooth R&B jams, and country ballads.
Hear Rhett talk with The Tennessean about the new single, "Unforgettable," here:
Yet, amidst all of these different genres putting their spin on the album in some way, the whole project is still uniquely Rhett. He passionately says, "My voice and my journey that inspired these songs is the glue that makes this album cohesive." And while he's not shy about the fact that there was a ton of discussion about the diverse songs to co-existing on the album, Rhett knows that "at the end of the day, it's all me and all things I've listened to and been inspired by. I think that's what makes it a cohesive Thomas Rhett album."
Life Changes is bound to be a concoction that you won't want to miss, no matter what genre you like. One reason Rhett includes so many different styles is because he wants "people to come in from different genres and be like 'Dang, I never really listened to country music, but this kind of record turns me on different ways.'" Make sure you stay with the times and get ready for Rhett's third studio album to make its musical mark on September 8. Check the full track listing below:
Life Changes Full Track Listing:
1. Craving You (Ft. Maren Morris)
2. Unforgettable
3. Sixteen
4. Drink A Little Beer (Ft. Rhett Atkins)
5. Marry Me
6. Leave Right Now
7. Smooth Like Summer
8. Life Changes
9. When You Look Like That
10. Sweetheart
11. Kiss Me Like A Stranger
12. Renegades
13. Gateway Love
14. Grave

You May Also Like...
Gallery | March 01, 2017

Gallery | October 25, 2017