Kellie Pickler and Phil Vassar Announce Joint Christmas Tour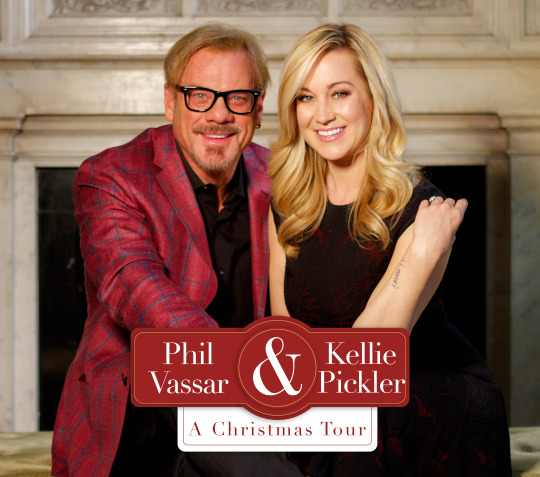 It feels like Christmas in July with the recent announcement that Phil Vassar and Kellie Pickler are teaming up for A Christmas Tour. Both artists are fan favorites when it comes to Christmas music and we are excited to see what they come up with together. To kick things off, Pickler and Vassar collaborated on a brand new Christmas single, "The Naughty List." The song, co-written by Vassar and Juliana Songs, and produced by Dane Bryan, will be released later this year.
Phil Vassar & Kellie Pickler's A Christmas Tour press image.
In 2011, Vassar released his full-length Christmas album, Noel. It is full of classics like "Oh Come All Ye Faithful," "Away in a Manger," and "I'll Be Home for Christmas." He also spiced up the record with his own original Christmas tracks like "Santa's Gone Hollywood," "Big Ol' Texas Christmas," and "Let's Make a Little Christmas."
Kelly Pickler also has a few country Christmas hits including her take on "Santa Baby," breaking Taste of Country's Top 50 Country Christmas Songs. In a press release, Vassar stated, "I absolutely love Kellie, and am so excited to go on tour with her. She is an amazingly talented lady and everyone who comes to our show this holiday season is going to be in for a fun time!"
Tickets for A Christmas Tour go on sale tomorrow July 28, so make sure to check out the tour dates below! Also, keep an eye out for their much-anticipated Christmas single "The Naughty List," releasing later this year.
A Christmas Tour dates:
11/24 - Wheeling, WV @ The Capitol Theatre
11/25 - Van Wert, OH @ Niswonger Performing Arts Center
11/30 - Waukegan, IL @ The Genesee Theater
12/1 - Milwaukee, WI @ Potawatomi Hotel & Casino
12/7 - St. Charles, MO @ The Family Arena
12/8 - Madisonville, KY @ The Glema Mahr Center for the Arts
12/9 - El Dorado, AR @ Griffin Music Hall
12/10 - State University, AR @ Fowler Center @ Arkansas State University
12/14 - Hamlet, NC @ Cole Auditorium & Community Center
12/15 - North Canton, OH @ Canton Palace Theatre
12/16 - Rising Sun, IN @ Rising Star Casino Resort
12/20 - New Brunswick, NJ @ State Theatre
12/23 - Charlottesville, VA @ The Paramount Theater
You May Also Like...
Article | July 25, 2017

Darius Rucker just announced his upcoming album, When Was The Last Time, scheduled to release... VIEW ALL

Article | July 25, 2017

Pop Sensation Harry Styles is an artist of many trades. From his days as a One Direction... VIEW ALL