High Notes: Garth Brooks With Trisha Yearwood
Relive Garth Brooks and Trisha Yearwood's show at the iconic Forum theater!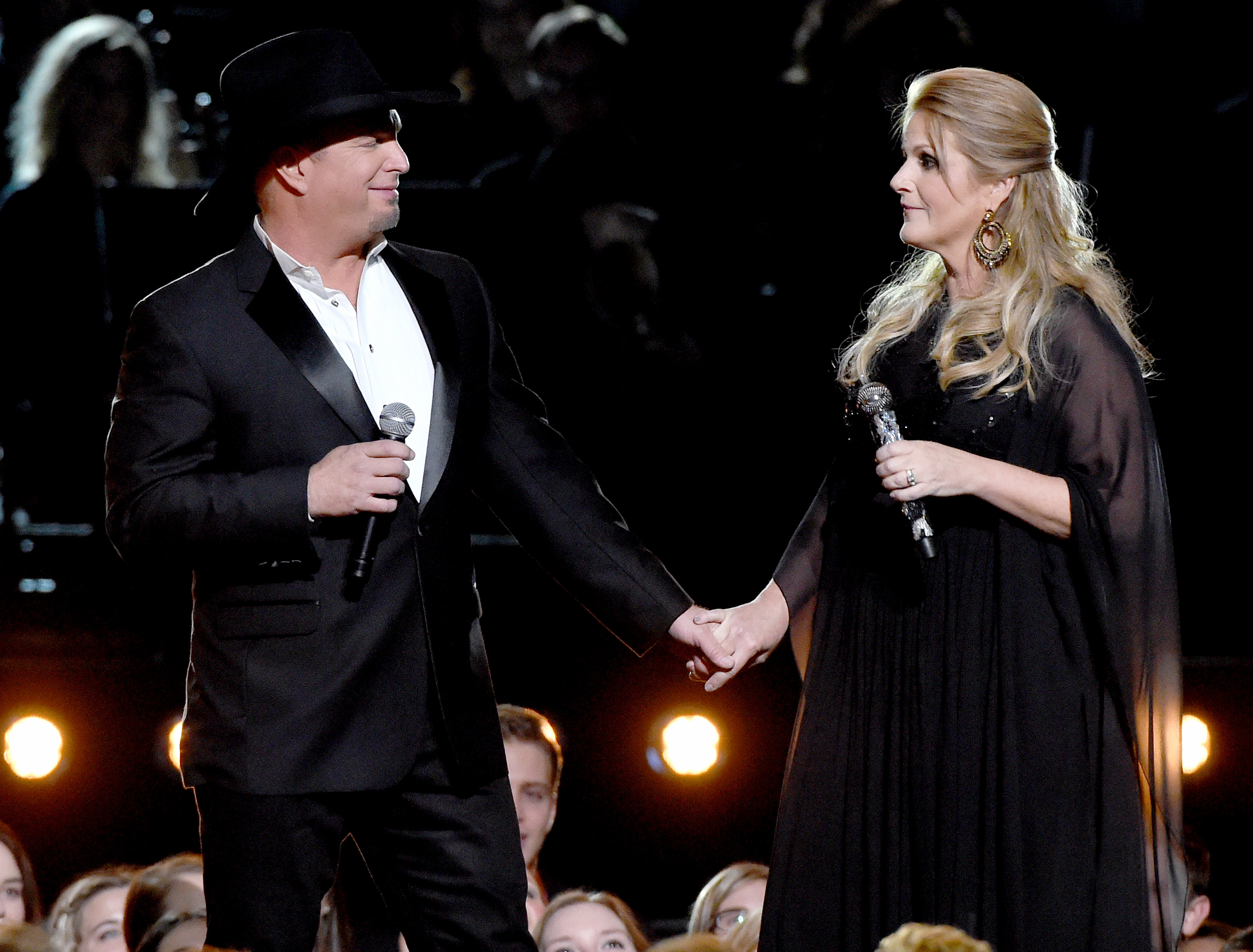 Garth Brooks is one of the most successful musicians in country music with a career that has spanned decades and inspired some of today's most prevalent artists. He's married to fellow superstar Trisha Yearwood and together the two have sold out stadiums and countless shows.
The country couple are currently completing the third year of their tour and on Friday, July 21, performed at The Forum in Inglewood, California, which was the first time for Brooks in over 20 years. Both Brooks and Yearwood had one objective when it came to taking on the iconic stage; proving that Los Angeles had country music fans. Judging by the massive crowd in attendance, however, anyone driving by the venue wouldn't need much convincing. With a night filled with stage theatrics, stadium sized sing-alongs and even an unexpected baby announcement, here are the high notes!
Kicking off the night was talented singer-songwriter Mitch Rossell, who performed three original songs and grabbed much of the crowd's attention with his sweet lyrics and inviting stage presence. It was very apparent how much opening for Brooks and Yearwood was for Rossell, mentioning at one point that he was playing for tips at airports before the duo brought him along on tour. Following Rossell was Karyn Rochelle and her band The Mumblers, whose energetic performance and clever songs won over the ever-growing audience immediately. We would later see Rochelle as a backup vocalist for Brooks and Yearwood as the night went on. Then, appearing magically, Brooks emerged from the stage on a giant sphere surrounding his drummer Mike Palmer. The audience went ballistic. Brooks jumped into his latest single "Baby Let's Lay Down And Dance," and seemingly didn't go up for air until two songs later.
Artist: Garth Brooks. Photo: Mac Kotas, MegaCountry
Brooks spent the next hour or so rehashing some of his greatest hits, ("The Thunder Rolls," "The River," "Friends In Low Places" and "Two Pina Coladas") until he rolled into the beloved duet "In Another's Eye." That's when Yearwood made her official appearance, reciting back to Brooks the beautiful ballad until the two met in the middle of the stage for a loving embrace. Afterwards, Brooks retreated so the spotlight could point to his talented wife. Yearwood did a set of five songs, including her hits "She's In Love With The Boy," "Wrong Side of Memphis" and "How Do I Live."
To finish off the night, Brooks read through the many signs his fans had made. Most of them requested a specific song, mentioned the number of Garth shows they've attended and some hoping for a birthday shout out, but one in particular stood out the most. A young couple held up a sign that read, "Working on a full house. Boy? Girl?" and Brooks was so intrigued he pulled them closer to the stage to discuss. The couple, whose names are Katy and Wesley Hansens, handed Brooks an envelope, explaining that their baby's sex was written inside, and asked if he would do the honors of the big reveal. He opens the envelope and exclaims, "I've gotta tell you, I'm extremely happy for you because I have three of these." The crowd erupts and the couple embrace tightly knowing they're going to have a baby girl.
Guess who's pregnant? Come find out!!! love, g #StudioG

NEW VIDEO: https://t.co/bqFC2K4P1P pic.twitter.com/pfrrbtxsQt

— Garth Brooks (@garthbrooks) July 24, 2017
To make the moment even better, Brooks offers the Hansens the deal of a lifetime: if he's still alive when their little girl goes to college, he'll pay for it. The parents-to-be look shocked and grateful, but Brooks couldn't help throw a little humor into the announcement. "People, I'm 84 years old. I'm never going to make it!"
The show ended with the perfect encore and Brooks and Yearwood proved that country music fans are alive and well in Los Angeles. The country couple landed a four night stint at the epic theater and will finish up their tour dates in Los Angeles on Saturday, July 29. Catch the duo on tour before the trek ends!
For dates, venues and more visit Brooks official website.
You May Also Like...
Article | August 15, 2016

Brandy Clark brought small-town stories and classic country sound to Charlotte, NC... VIEW ALL

Article | August 19, 2016

To say that I was 'excited' to see the Dixie Chicks on tour this summer would be a HUGE understatement... VIEW ALL