MegaPick: Sara Evans - Words
Sara Evans puts her "words" to the test on triumphant new release!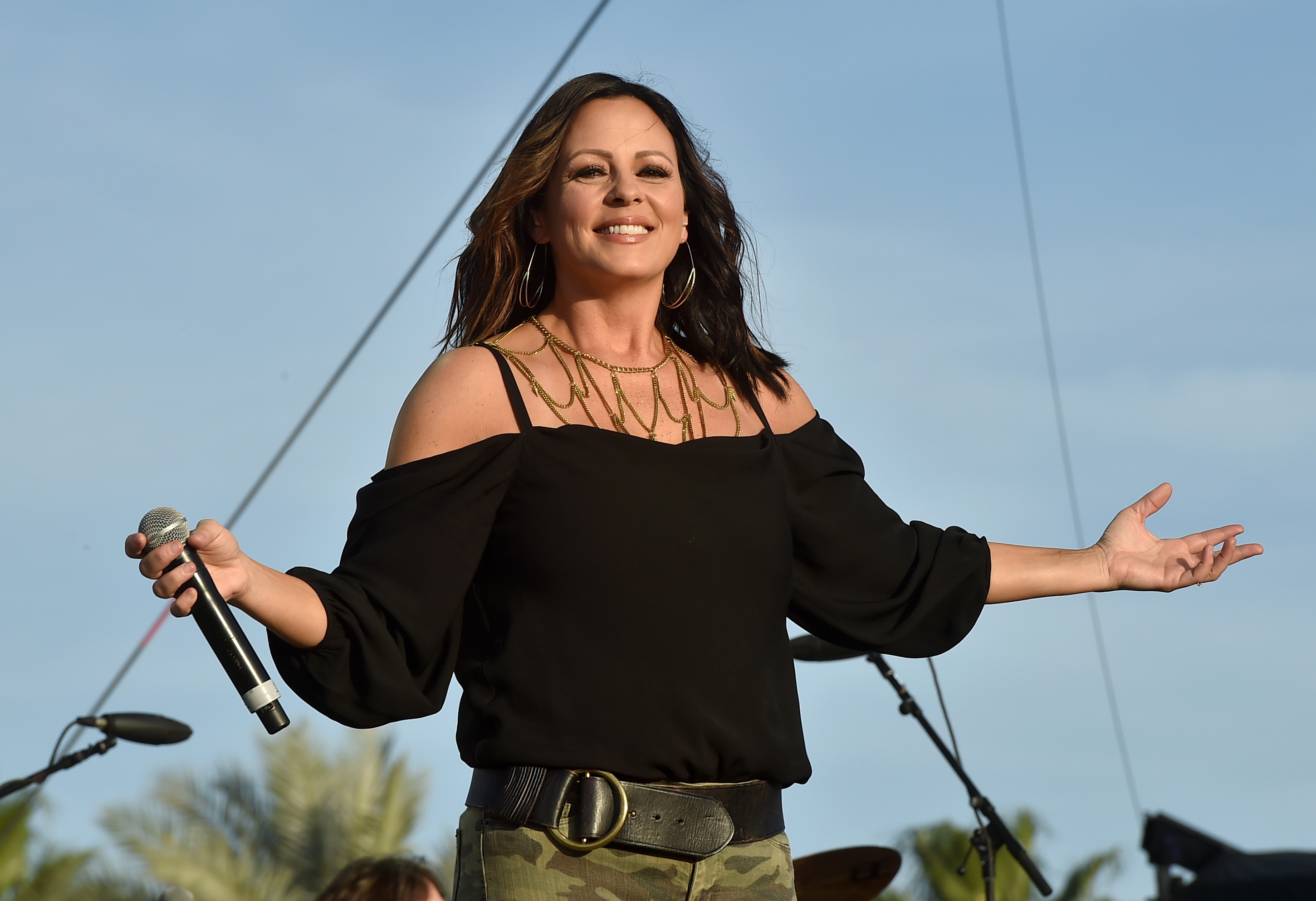 Sara Evans released her eighth studio album Words today (July 21) and it's a breath of fresh air from the country songstress. Evans has never been one to shy away from songs that delve deeply into emotional experiences, and each song on this album is a testament to that truth. The melodies and lyrics on this 14-track album will take you on a journey through the raw emotions of heartbreak to the excitement of falling in love again.
The title track, "Words," is the first song on the album and sets the stage for what to expect. It combines a sweet and calm melody with a powerful message. Words can build up or tear down, and Evans takes us on a journey of how words can evolve and transform over the course of a relationship.
Sara Evans' Words album cover.
"Marquee Sign" was the first single released from the album. The song's lyrics speak to how time reveals true colors and brings to life the regret that comes from relationships founded on untruths. This song is catchy, upbeat, and fun to listen to, while conveying an underlying message of a love gone wrong.
The upbeat, "Long Way Down," is about catching someone red-handed. You can't help but feel empowered after listening to this track. Evans' vocals soar while being backed by both the banjo and violin, blending together to create a rich folk sound.
"I Don't Trust Myself" is a mellow ballad that brings to life the loneliness that can come in the wake of a recent breakup. The raw and honest mood of the song makes the feeling tangible.
"All The Love You Left Me" is a triumphant moment on the album. Evans puts it all out there as she belts her way through the heartbreaking record. Don't believe us? Take a listen below!

"Diving in Deep" covers the excitement of falling in love. It's cute and fun, and we can't get enough of this one. ("And I wanna know ya/ Until there are no secrets left to keep/ If all is fair in love and war/ The consequence I will ignore/ Cause this time I'm diving in deep/ Yeah, pretty darling I'm diving in deep")
Evans made a name for herself early on in her country music career. Evans self-released this album on her brand new record label, Born To Fly Records. She launched the label earlier this year. The album features co-writes from some of Nashville's powerhouse songwriters. Ashley Monroe and Brett James teamed up on "Make Room at the Bottom," while up-and-coming songstress but established songwriter Caitlyn Smith co-wrote "I Don't Trust Myself." Lady Antebellum's Hillary Scott co-wrote "A Little Bit Stronger," which Evans originally released as a single in 2010. Words features an acoustic version of the track that is already certified Platinum by the RIAA.
The latest effort from Evans showcases the all of her strengths, pleasing longtime and new fans alike. Get Words on iTunes here.
Words track listing:
1. Long Way Down (Tammy Rodgers / Liz Hengber / Jerry Salley)
2. Marquee Sign (Sara Evans / Jimmy Robbins / Heather Morgan)
3. Diving in Deep (Gordie Sampson / Hillary Lindsey / Steve McEwan)
4. All the Love You Left Me (Ben West / Hillary Lindsey / Gordie Sampson)
5. Like the Way You Love Me (Sara Evans / April Geesbreght / Jason Massey)
6. Rain and Fire (Claude Kelley / Charles Harmon)
7. Night Light (Daniel Tashian / Jaida Dreyer)
8. I Need a River (Marcus Hummon / Darrell Scott / Sonya Isaacs)
9. I Don't Trust Myself (Caitlyn Smith / Gordie Sampson / Steve McEwan)
10. Make Room at the Bottom (Ashley Monroe / Brett James)
11. Words (David Hodges / Jake Scott / Jimmy Robbins)
12. I Want You (Shane Stevens / Victoria Monet)
13. Letting You Go (Sara Evans / Emily Shackelton / Victoria Banks)
14. A Little Bit Stronger (Acoustic) (Hillary Scott / Hillary Lindsey / Luke Laird)
MegaCountry caught up with Sara Evans recently and you can watch the singer sharing her favorite lyric(s) from the album below!
You May Also Like...
Article | November 23, 2016

In a year chock full of Holiday albums from some of country music's biggest stars... VIEW ALL

Article | June 09, 2017

Charles Kelley, Hilary Scott and Dave Haywood had been together as Lady Antebellum for nearly a decade... VIEW ALL