MegaPick: Lady Antebellum's 'Heart Break'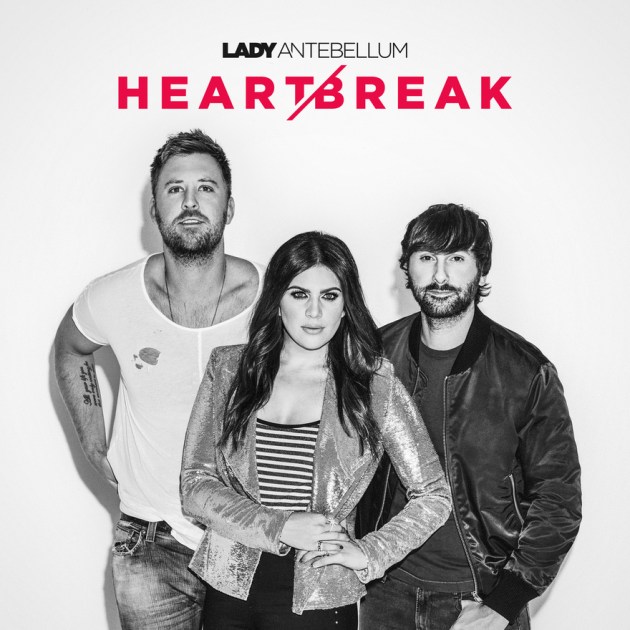 Charles Kelley, Hilary Scott and Dave Haywood had been together as Lady Antebellum for nearly a decade when they decided it was time to take a break from creating music collectively to explore other avenues as solo artists and raise their families. The trio needed that time away to come back together two years later to create their latest album, released everywhere today (June 9). Their sixth studio album, Heart Break was recorded in Southern California as well as Florida. The trio teamed up with powerhouse producer busbee to help them develop the album.
The songs are familiar for the band, strong harmonies, Scott and Kelley sharing the lead vocal role, switching off creating a different sound for each song. With the addition of a brass section and daring to experiment with new instruments throughout the album, especially present in their current single "You Look Good", sonically it gives the LP a fresh new sound.
A standout is "Army", a strong groove drives the song about honoring and giving credit to the one who holds you up. Penned by the band along with busbee and Nicolle Gaylon the lyrics are honest and will ring true to those in love. ("So if anybody thinks I'm a hero / when they watch me walk right into the flames / I'm just marching to the sound of her heart beat / yeah I'm a soldier, but if I'm a soldier, she's an army.") On the opposite end of the spectrum "Hurt" and "Think About You" are the quintessential break up songs, Scott's vocals shine and allow the relatable lyrics to penetrate your heart.
Closing out the album, "Famous" which is a tribute to the level of fame that goes one step too far. The band found themselves thinking about Amy Winehouse, the popular singer who passed back in 2011. The lyrics are powerful and showcase a side of celebrity that not many understand. ("Kinda breaks your heart when you think about / Everything she gave and the life they stole away / But you can't blame her / Everybody's drawn to the danger / Lookin' through the lens of make believe, ain't a mystery / Why a star goes down in flames, famous".)
Heart Break returns Lady Antebellum back to their roots, giving fans exactly what they've been missing these past two years. The trio along with Kelsea Ballerini and Brett Young are now out on the You Look Good Tour, which will make stops in the United States, the United Kingdom and South Africa. For full tour dates check out LadyA.com.
You May Also Like...
Article | June 30, 2016

Lady Antebellum is showing love for pop superstar and fellow Tennessee-native Justin Timberlake... VIEW ALL

Article | March 30, 2017

For all you Lady Antebellum fans out there, we have some exciting news. The talented trio have... VIEW ALL